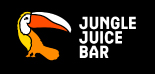 JUNGLE JUICE BAR
Open today
From 10:00 AM to 9:00 PM

Not your ordinary smoothie bar...
We only serve premium smoothies and juices that both taste fantastic AND do good. No shortcuts, no sugar, no additives.
Instead, our premium drinks are bursting with raw fruit and fresh greens, and the occasional superfood or protein because we just cannot help ourselves....
Hand crafted on set - and always super FRESH.
Opening Hours
Monday

· From 10:00 AM to 9:00 PM


Tuesday

· From 10:00 AM to 9:00 PM


Wednesday

· From 10:00 AM to 9:00 PM


Thursday

· From 10:00 AM to 9:00 PM


Friday

· From 10:00 AM to 9:00 PM


Saturday

· From 10:00 AM to 9:00 PM


Sunday

· From 10:00 AM to 9:00 PM