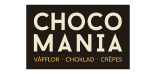 Choco Mania
Open today
From 10:00 AM to 9:00 PM

CHOCOLATE ● WAFFLES ● CRÊPES ● ICE CREAM ● COFFEE

Treat yourself with a lifetime experience at Choco Mania, the first melted chocolate café in Sweden offering signature Waffles, Crêpes, Fondues, Nutella desserts and fair trade Coffee. The love for chocolate cannot be mistaken!

Welcome to Choco Mania café – life just got yummier!
Opening Hours
Monday

· From 10:00 AM to 9:00 PM


Tuesday

· From 10:00 AM to 9:00 PM


Wednesday

· From 10:00 AM to 9:00 PM


Thursday

· From 10:00 AM to 9:00 PM


Friday

· From 10:00 AM to 9:00 PM


Saturday

· From 10:00 AM to 9:00 PM


Sunday

· From 10:00 AM to 9:00 PM