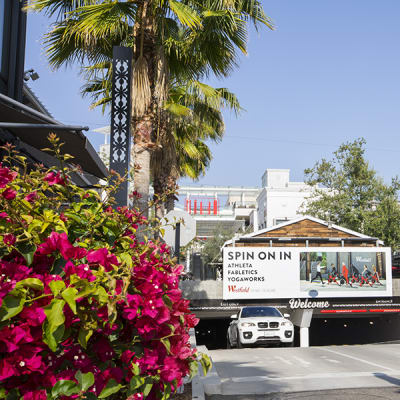 THE VILLAGE GARAGE PARKING
There are five convenient entrances from every direction of the property into the parking structure. 
Please pull a parking ticket upon entry.
First two hours are FREE
2-3 Hours, $2
3-4 Hours, $3
4-5 Hours, $4
Maximum Fee/ Lost Ticket Charge, $14
Please remember to take your parking ticket with you and pay for parking at one of the 14 Pay Stations located at Garage entrances/exits before you return to your vehicle.
The following Village retailers validate for an additional hour with purchase or appointment only:
24 Hour Fitness
Burke Williams Day Spa
Costco
SHORT TERM PARKING AT THE VILLAGE
Located at the surface lot between Crate & Barrel and REI facing Topanga Canyon Boulevard, closest to the service-oriented retailers at The Village.
Park in a numbered spot
Find one of 11 Pay Stations and Pay
Rate is $1 for 90 minutes maximum (there is not an option to 'feed' the meter to add more time)
Enter your parking space number and submit payment
Return to your vehicle to place the receipt on your dash
Validations are not valid for the metered lots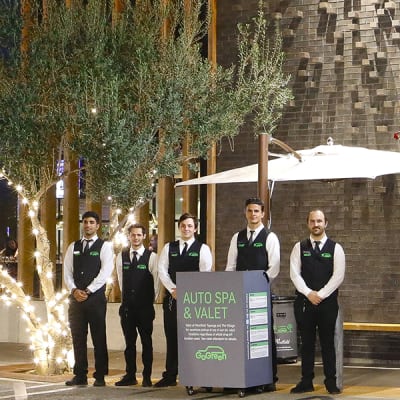 VALET PARKING
Westfield Topanga & The Village offers six professional valet services conveniently located across both properties.
Valet services include:
Text & Go: Text when ready to leave to have your car waiting for you at any Valet location
Valet fee, $15
Car wash and detailing services available, additional charges apply
Topanga Valet Locations:
In the Owensmouth Garage, Level 1 near Anthropologie
Nordstrom near Victory Blvd.
Neiman Marcus, Level 1
Westfield Topanga entrance near Cheesecake Factory 
Village Valet Locations:
Near JOEY - In the Topanga Canyon Blvd. adjacent lot
Near Eureka! - In the Topanga Canyon Blvd. adjacent lot
All Valet locations accept credit or debit card only, no cash is accepted.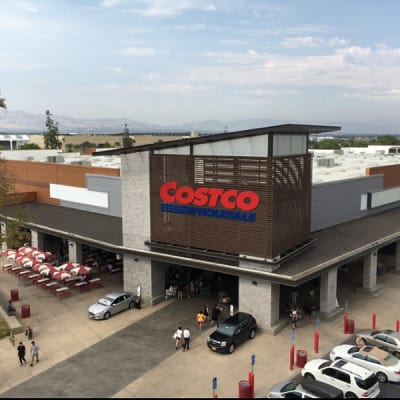 COSTCO PARKING
If your visit entails a trip to Costco, please park in the Village Garage by entering off of Victory Boulevard on "Westfield Way" and park on level one or the mezzanine level, you can also park in the flat lot near Costco by entering off of Owensmouth Avenue.
Conveniently located on the mezzanine level of the parking garage, there is also a travellator available to escort you and your shopping cart to and from the ground level.
The first two hours are free and Costco validates for one additional hour with purchase. 
WESTFIELD TOPANGA PARKING
Westfield Topanga is conveniently surrounded by three parking garages and numerous surface parking lots.
Westfield Topanga garage parking entrances can be easily accessed from Owensmouth Avenue, Topanga Canyon Blvd., and Vanowen Street. Entrances to surface lot parking are accessible from Owensmouth Avenue, Vanowen Street, Victory Boulevard, and Topanga Canyon Blvd.