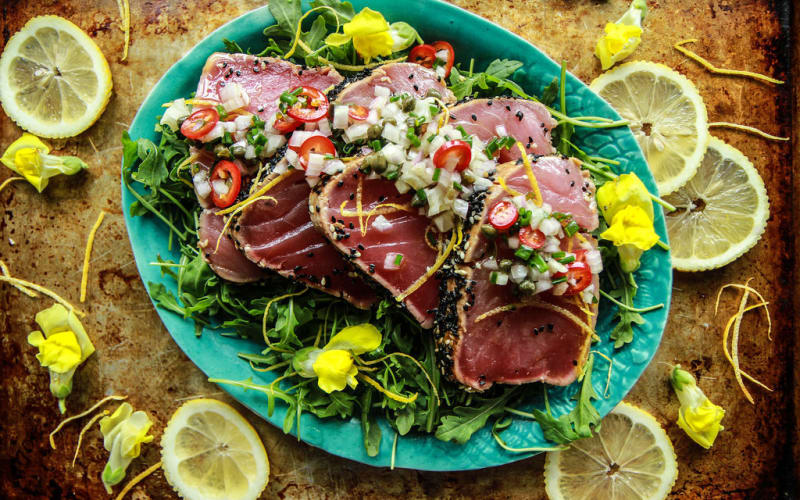 In the heat of summer, nothing tastes better than a refreshing salad (other than ice cream, of course!). And now that temperatures are rising, we've gathered some of our favorite blogger recipes for delicious seasonal salads—from a hearty pasta-based version to a new take on the classic potato. Ready to spend less time in the kitchen and more time soaking up the sun? Read on to try these amazing recipes.
Easy Asparagus Pasta Salad
Short on time? This five-ingredient pasta salad can be prepared in advance, so all you have to do when you get home from work is open the fridge and plate it!
Recipe and image courtesy of Primavera Kitchen.
Serves: 4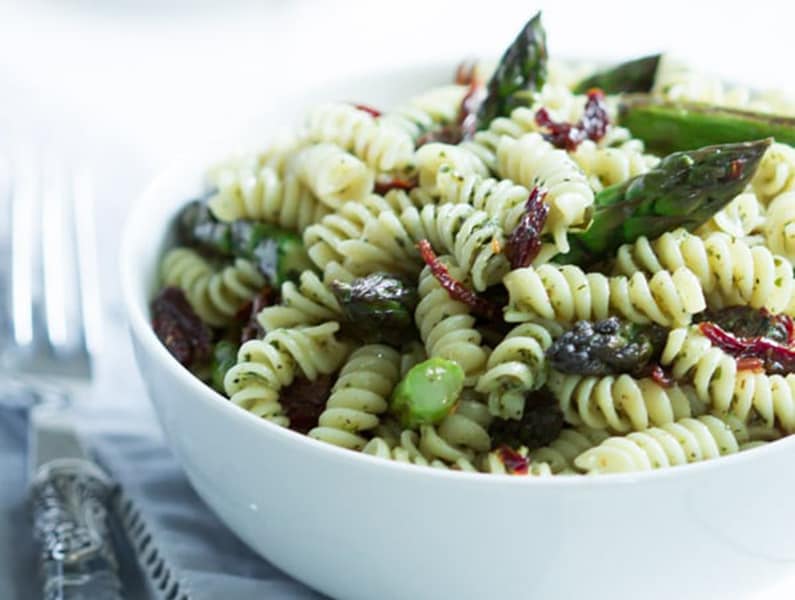 INGREDIENTS
2 cups of gluten-free Fusilli pasta
1 pound roasted asparagus (cut at a diagonal in 1 and 2 inch pieces)
1 tablespoon olive oil
1/2 cup pesto
1/3 cup jarred sun dried tomatoes, roughly chopped
Salt and black ground pepper to taste
INSTRUCTIONS
Bring pot of salted water to boil over high heat.
Once the water is boiling, add the Fusilli and cook according to the packaging directions. Drain the pasta, rinse and transfer to a bowl.
Add roasted asparagus, olive oil, pesto, sun dried tomatoes, salt and pepper.
Then toss well to combine and adjust the seasoning if you think it is necessary.
Seared Tuna Salad with Lemon Caper Dressing
Light grilled fish (like the tuna in this recipe) is an ideal protein for your summer salads. Plus, you'll love the lemon caper dressing!
Recipe and image courtesy of Heather Christo.
Serves: 2-4 
INGREDIENTS
Seared Tuna Salad:
1 pound sashimi grade tuna steaks
3 tablespoons sesame seeds
1 tablespoon olive oil
6 cups baby arugula
Lemon Caper Dressing:
1 large shallot, minced
3 tablespoons lemon juice (plus the zest of 2 lemons)
3 tablespoons olive oil
1 fresno chili, thinly sliced
1 tablespoon capers
2 tablespoons minced chives
Kosher salt
INSTRUCTIONS
Season the tuna with kosher salt and then press the sesame seeds in a thin layer onto all sides of the piece of fish.
Bring a seasoned pan (I used cast iron) up to medium-high heat, add the olive oil and sear the tuna, about 30 seconds to 1 minute on each side, depending how cooked through you like it. Cut the tuna into ¼" thick slices and set aside.
Make a bed of arugula on a platter and then arrange the seared tuna over the top of the arugula.
In a small bowl combine all of the ingredients for the Lemon Caper Dressing and season it to taste with kosher salt. Spoon the dressing generously over the fish and salad and serve immediately.
Roasted Chickpea Kale Salad with Tahini Dressing
The ultimate crowd-pleaser, this vegan kale salad gets a little crunch thanks to flavorful chickpeas.
Recipe and image courtesy of Eat Yourself Skinny.
Serves: 4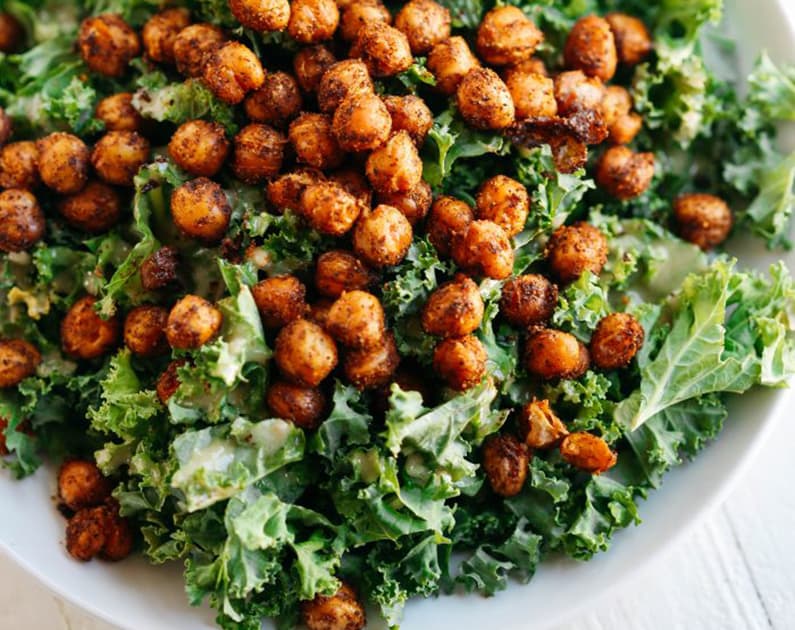 INGREDIENTS
6 cups kale, roughly chopped or torn
Roasted Chickpeas:
1 (15 oz) can chickpeas, rinsed and drained
1 to 2 tablespoons olive oil
1 teaspoon cumin
1/2 teaspoon chili powder
1/4 teaspoon paprika
1/2 teaspoon sea salt
Tahini Dressing:
1/4 cup tahini
1/4 cup lemon juice
1 teaspoon lemon zest
1 tablespoon honey (or maple syrup for vegan)
3 cloves garlic, minced
1 teaspoon fresh ginger
2 tablespoon olive oil
Salt and pepper to taste 
INSTRUCTIONS
Preheat over to 400 degrees F.
Rinse and drain chickpeas, patting them dry using paper towels. In a large bowl, drizzle olive oil over chickpeas and add seasonings, tossing until chickpeas are completely coated. Spread chickpeas out on a prepared baking sheet and roast in over for 25 to 30 minute, shaking pan halfway through
While the chickpeas are roasting, whisk together tahini, lemon juice, zest, honey garlic, ginger, olive oil and salt/pepper. Right before serving, toss tahini dressing with the kale and top with roasted chickpeas. Serve and enjoy!
Roasted Idaho Potato Wedge Salad
For a tasty twist on the classic potato picnic salad, try this version made with iceberg lettuce wedges.
Recipe and image courtesy of The Candid Appetite.
Serves: 4
INGREDIENTS
2 tablespoons vegetable or canola oil
3 medium Idaho russet potatoes, rinsed and thinly sliced
1 teaspoon kosher salt
1 teaspoon coarsely ground black pepper
1 tablespoon chopped fresh rosemary
1 large iceberg lettuce, quartered
¾ cup buttermilk ranch dressing
8 slices crispy bacon, chopped
1 pint cherry tomatoes, quartered
¼ cup thinly sliced red onion
½ cup croutons
¼ cup crumbled feta cheese
2 tablespoons chopped fresh chives
INSTRUCTIONS
Set a large skillet over medium-high heat with the oil. Once hot, add the sliced potatoes and cook until crispy, browned and softened, about 15 to 20 minutes. Season with salt, pepper, and rosemary. Make sure to stir them occasionally so that they cook and brown evenly.
To assemble the wedge salads, arrange the iceberg quarters on a platter. Drizzle each wedge with dressing, and top with potatoes, bacon, tomatoes, red onion, croutons, feta cheese and chives. Serve immediately and enjoy!
Grilled Shrimp and Watermelon Greek Salad
Greek meets West in this fusion salad featuring fruit, fish, and bread. (Eating it will almost make you believe you're on a Mediterranean vacation.)
Recipe and image courtesy of The Candid Appetite.
Serves: 6-8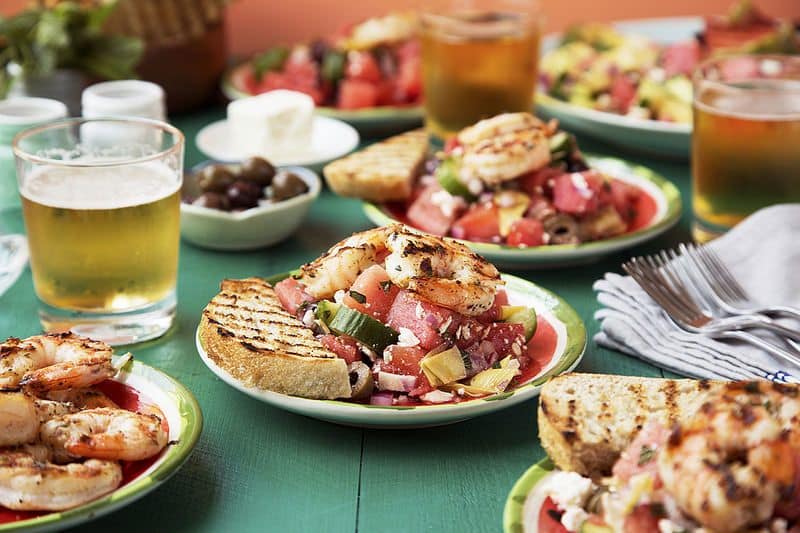 INGREDIENTS
1 French loaf or baguette, sliced
4 tablespoons olive oil, divided
3 garlic cloves, peeled
1 small watermelon, cut into wedges
1 pound large shrimp, peeled and deveined
3 tablespoons red wine vinegar, divided
1 teaspoon salt
1 teaspoon pepper
½ teaspoon crushed red pepper flakes
3 teaspoons fresh oregano, chopped
1 small red onion, minced
2 small Persian cucumbers, chopped
1 (14 oz) can artichoke hearts, chopped
½ cup kalamata olives, chopped
½ cup feta cheese, crumbled
¼ cup fresh mint, chopped
1 tablespoon lemon juice
INSTRUCTIONS
Heat a stove top grill pan or outdoor grill over medium-high heat.
Arrange the bread slices in a single layer on a baking sheet or plate. Drizzle with 1 tablespoon olive olive. Place the bread on the hot grill and cook for about 1 to 2 minutes on the first side, or until grill marks form. Flip over and continue to cook the second side for another minute. Return to baking sheet or plate and while hot, rub each bread slice with a garlic clove or two, as if you're grating the clove into the bread. Set aside.
Arrange the watermelon slices on the hot grill, and cook for about 2 to 3 minutes. Flip over and continue to cook for another minute or two. Transfer to a cutting board and allow to cool down completely.
In a large bowl, combine the shrimp with 1 tablespoon olive oil, 1 tablespoon red wine vinegar, ½ teaspoon salt, ½ teaspoon black pepper, crushed red pepper flakes, and 1 teaspoon oregano until evenly combined. Arrange the shrimp on the hot grill, in an even layer. Cook for about 5 to 7 minutes in total, turning the shrimp halfway. They should be pink and slightly charred around the edges. Transfer to a plate and allow to cool down.
Cut the rind off the cooled watermelon wedges and then cut into a medium dice. Transfer to a large mixing bowl. Add the red onion, cucumber, artichoke hearts, olives, feta, mint, chopped garlic and remaining 2 tablespoons oregano. Carefully toss everything together until just combined. You don't want to stir too much because the watermelon will breakdown. Add the remaining 2 tablespoons olive oil, 2 tablespoons red wine vinegar, lemon juice and season with a bit of salt and pepper to taste. Stir once more.
Serve chilled or at room temperature with a the grilled shrimp on top. Enjoy!