Almost every home-cooked meal produces peels, rinds, bones, and stems that most people tend to throw away. But with a little creativity and know-how, you can turn these kitchen scraps into tasty dishes. That's why we invited Joel Gamoran, National Chef for Sur La Table and host of the television show Scraps, to share four inventive ways to cook with these "rubbish" ingredients. On a recent visit to Westfield Topanga & The Village's Eureka!, we also sat down with Gamoran to learn more about his show and why it's important to utilize scraps. Read on for his easy-to-copy recipes and more.
---
Westfield: How did the television show come about?
Gamoran: I was teaching a cooking class at Sur La Table and noticed how full all of the students' trash bowls were. As a chef I was taught to use every last scrap in our restaurants in order to maximize profit. I thought, "No one has ever inspired home cooks to cook with their scraps so they can save money as well!" I took the idea for the show to my friend Tim Whitney (Executive Producer) and Katie Couric (Executive Producer). We pitched the show for two-and-a-half years before we found a home on A+E Networks!
Westfield: Tell us more about the show.
Gamoran: 40% of the food we buy at the grocery store gets trashed—meaning it spoils or goes unused. The premise of the show is to combat that! I travel across the country in my mobile VW 1963 kitchen/van, inspiring locals to cook with ingredients they would normally throw away. Think carrot tops, chicken bones, and onion peels.
Westfield: Why is it important to use kitchen scraps?
Gamoran: Three main reasons: It saves you money by cooking the most out of what you have! An example is one lobster costs $20, which is one very expensive meal, but if you were to use the shells of that lobster in a soup or risotto, now you have two meals for the price of one. It saves flavor! Do you know what cilantro stems taste like or strawberry tops? They have their own set of flavors that can seriously up your cooking game. It saves the world. 20% of our landfills are food waste! We can massively affect our planet in a positive way if we can stop throwing food down the trash.
Westfield: What is your favorite food scrap to cook with?
Gamoran: Stale bread. It seems so simple, but makes the best sauces, bread pudding, and of course, bread crumbs. Stale bread is what I call a gateway scrap!
Westfield: What are your five top tips for cooking with scraps?
Gamoran: Buy a blender, I love the KitchenAid Pro Line Blender. Blending can really unlock the possibilities of scraps. Be open-minded. Get ready to eat new flavors and parts of ingredients you are not used to! Experiment. Try something new. If it doesn't work, it was going to be trash anyway. Love your freezer. Sometimes you don't have time to deal with your scraps. Use your freezer to organize your thoughts and save scraps for another day.
---
Spent Coffee Grilled Pork
Serves: 4
Used or spent coffee grounds are most people's "first scrap of the day." Instead of throwing out your coffee grounds, use them to help fertilize your plants or turn them into a smoky rub for grilled meats. As a bonus, spent grounds freeze beautifully. This rub adds a kiss of coffee and chili flavor to grilled pork, but can also be used with grilled beef, chicken, salmon, or vegetables.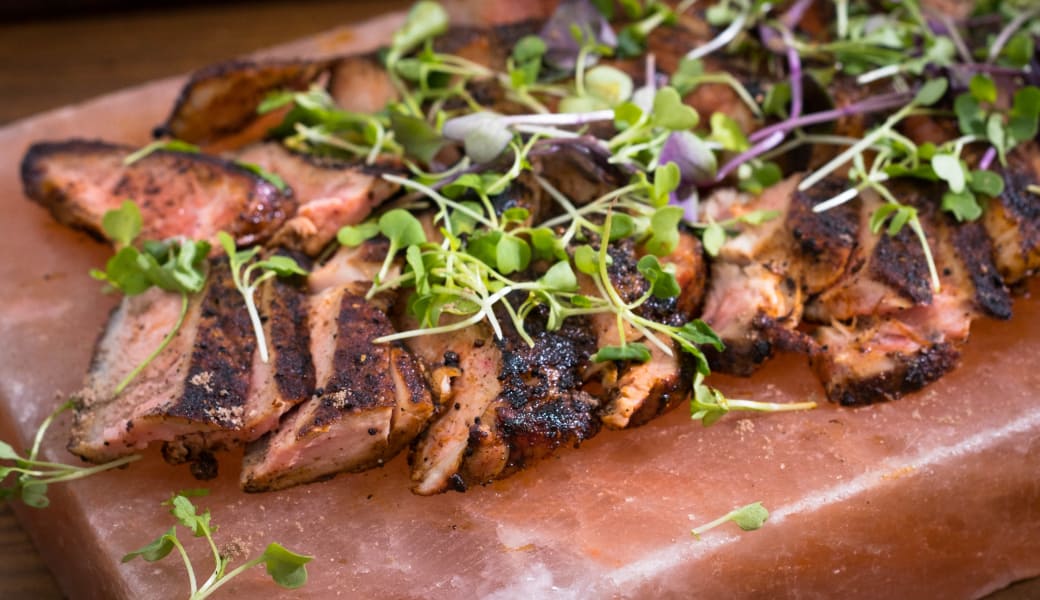 Ingredients
Smoked sea salt or sea salt
1 1"-1 ½"- thick pork blade chop (about 2 ½ lbs)
1 tablespoon used coffee grounds
1 tablespoon whole coriander seeds, crushed
1 tablespoon ground ancho chili powder
1 tablespoon smoked paprika
1 tablespoon dark brown sugar
1 tablespoon sea salt
½ tbsp ground black pepper
Microgreens, for serving (optional)
Extra virgin olive oil
Directions
Season pork lightly with salt. Allow to sit at room temperature for about 30 minutes. You may also do this ahead of time and store pork in the refrigerator. In a medium bowl, stir together coffee, spices, brown sugar, salt, and pepper. Sprinkle onto pork, pressing to coat.
Heat a grill or grill pan on medium-high heat. Grill pork for about 2 minutes on each side. Transfer to the cooler part of the grill (or transfer to a 400°F oven if using a grill pan) and cook for an additional 6-8 minutes until thickest part of chop registers 135°F.
Allow to rest for at least 10 minutes before slicing. Top with microgreens, a drizzle of olive oil, and a sprinkle of salt.
---
Mushroom Stem Tartine
Serves: 4
Mushrooms stems, which can be tough or woody in comparison to more tender mushroom caps, are often discarded. But when cut small and sautéed separately, these scraps take on a meaty texture and can be easily blended into a spread for these tasty mushroom toasts.
Ingredients:
2 tablespoon extra virgin olive oil, plus more for finishing
2 tablespoon unsalted butter, divided
2 large shallots, thinly sliced
1 ½ pounds mixed wild mushrooms (such as chantrelles, maitake, king trumpet, oyster or shiitake)
2 teaspoons chopped fresh thyme, divided
½ cup Pinot Noir, divided
1 15-ounce can cannellini beans, undrained
1 tablespoon sherry vinegar
4 pieces crusty sourdough bread, grilled or toasted
Sea salt and freshly ground black pepper
Flakey salt or black truffle salt, for serving
Directions:
Heat half the olive oil and butter in a large skillet over medium heat. Add the shallots and cook, stirring occasionally, until soft and translucent, for about 5 minutes.
Separate mushroom stems from caps; finely mince stems, roughly chop or tear caps, and set aside. Increase heat to medium-high, and add stems and half the thyme. Cook until mushrooms release their liquid and start to brown.
Add half the wine; cook until dry. Place beans (and their liquid) into a high-speed blender; add mushroom stems and process until smooth. Add vinegar; season with salt and pepper. Heat remaining oil and butter in the skillet. Add mushroom tops and cook until golden. Add remaining wine; cook until dry. Season with salt and pepper.
To assemble, spread stem puree on each toast, top with mushroom caps, flaky or truffle salt, remaining thyme, and a drizzle of olive oil.
---
Corn Cob Polenta
Serves: 4
Yes, corn kernels are delicious, but that doesn't mean the cobs should fall by the wayside. This ultra-creamy polenta dish utilizes all parts of the corn—with the exception of the husks—which helps intensify this recipe's rich flavors.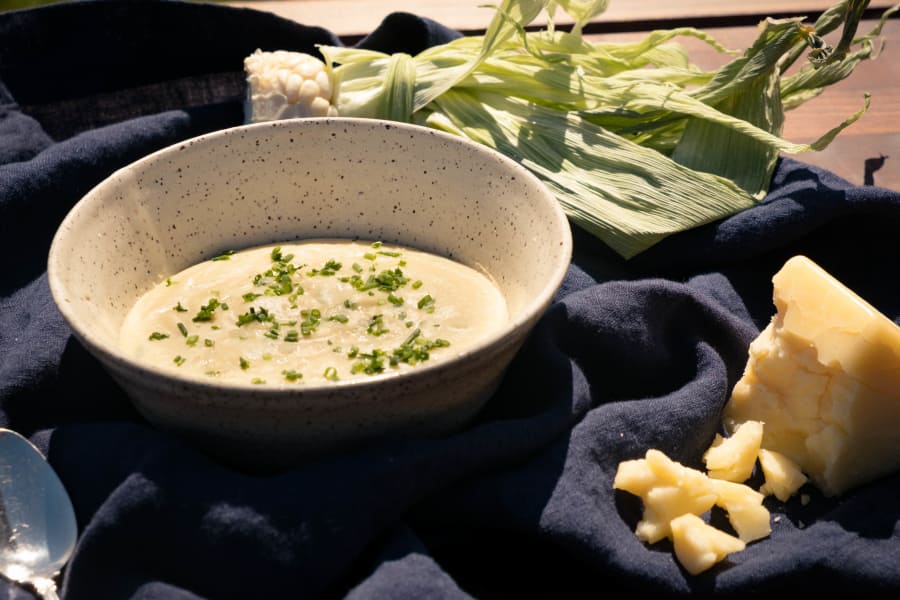 Ingredients:
6 ears of corn
3 tablespoons butter
7 ounces sharp cheddar cheese, grated
Sea salt and freshly ground black pepper
Minced chives, for garnish
Directions:
Shuck the ears of corn. Using a sharp knife, shave off the kernels. Using the back of a knife, shave the "corn milk" from the cobs.
Place the cobs in a large pot, cover with water, and bring to a boil. Simmer, uncovered, for about 30 minutes. Remove cobs.
Melt butter in a large skillet over medium heat. Add the corn and cook, stirring occasionally, until slightly softened, about 5 minutes. Cover with about 2 cups of corn stock. Bring to a boil, reduce heat to a simmer, and cook for about 15 minutes.
Place corn mixture in a high-speed blender. Blend until smooth. Return to skillet over low heat. Stir in cheese, season with salt and pepper. Serve warm garnished with chives.
---
Stale Bread Tuscan Soup
Serves: 6-8
Fresh bread typically contains no preservatives and has a very short shelf life. In this classic take on Tuscan ribolitta, stale bread is stirred into a vegetable soup towards the end of cooking to thicken it and add hearty texture.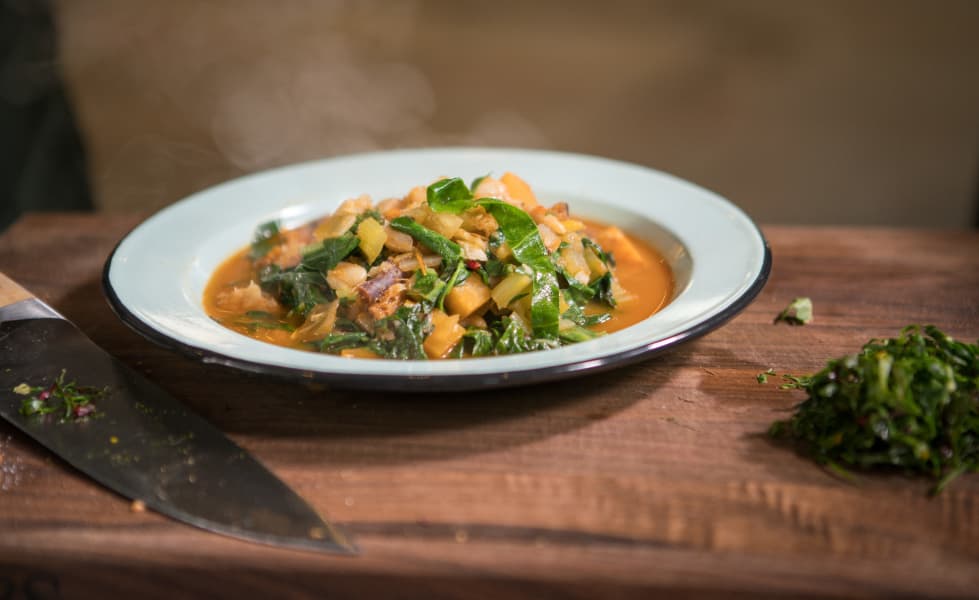 Ingredients:
3 tablespoons extra-virgin olive oil, plus more for serving
1 yellow onion, diced
2 carrots, peeled and diced
2 large celery stalks with leaves, diced
1 bunch Swiss chard, stems and leaves chopped and divided
3 garlic cloves, thinly sliced
1 small rutabaga or turnip, peeled and diced
1 teaspoon smoked Spanish paprika, plus more for serving
1 sprig fresh rosemary
1 large tomato, chopped
1 dry bay leaf
One 15-oz can white beans and liquid (or substitute 2 cups cooked white beans plus 1 cup cooking liquid)
2 thick slices stale sourdough bread, torn or sliced into 1" pieces
Nutritional yeast, for serving (optional)
Sea salt and freshly ground black pepper
Directions:
In a large pot, heat olive oil over medium heat. Add onion, carrot, celery, and chard stems. Season with salt and pepper and cook, stirring occasionally, for about 5 minutes. Add garlic, rutabaga or turnip, paprika, rosemary, tomato, and bay leaf. Cook for about 3 minutes. Add beans and their liquid and 2 quarts water; bring to a boil. Reduce heat, cover, and simmer for 30 minutes.
Add chard leaves and bread. Simmer for about 5 minutes. Season with salt and pepper. Remove rosemary sprig and bay leaf. Top with olive oil, smoked paprika, and nutritional yeast (if using) before serving.