OUVERTURE EXCEPTIONNELLE LE LUNDI 29 MAI
Votre centre de shopping est exceptionnellement ouvert le lundi 29 mai de 10h à 20h.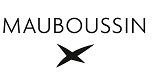 MAUBOUSSIN
Open today
From 10:00 AM to 8:00 PM

01 74 70 77 70
The Maison Mauboussin, founded in Paris in 1827, makes women dream with its unique and original jewelery creations, watches and accessories. Find now all the know-how of this jeweler in your shopping center.
Opening Hours
Monday

· From 10:00 AM to 8:00 PM


Tuesday

· From 10:00 AM to 8:30 PM


Wednesday

· From 10:00 AM to 8:30 PM


Thursday

· From 10:00 AM to 8:30 PM


Friday

· From 10:00 AM to 8:30 PM


Saturday

· From 10:00 AM to 8:30 PM


Sunday

· From 10:00 AM to 8:00 PM