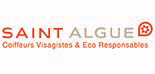 SAINT ALGUE
Open today
From 10:00 AM to 8:00 PM

01 74 25 72 52
For the last 35 years, Saint Algue has been enhancing and revealing the beauty of women.. A wonderful journey, full of emotion, smiles and encounters, and above all, a journey that lasts!
Hairdressers and salons that look at life in a responsible way and care for the planet, naturally. Saint Algue is committed to implementing and promoting a policy of sustainable development through concrete actions: saving water, waste recycling, low energy consumption and more...
A line of professional, eco-friendly products based on the benefits of aromatherapy. Each range in this line is produced from the basis of a natural essential oil and formulas that our constantly refined for optimum effectiveness!
A specific method based on attentiveness and expertise. Saint Algue hairdressers are specially trained in cosmetology to enhance your beauty while respecting your personality. The spirit of the Saint Algue brand is bespoke cosmetic assessment.
Events in the world of beauty. Official Partner of the Miss France competition, for the last 25 years Saint Algue has supported the pretenders to the crown, creating those princess hairstyles that are as elegant as they are refined.
Opening Hours
Monday

· From 10:00 AM to 8:00 PM


Tuesday

· From 10:00 AM to 8:00 PM


Wednesday

· From 10:00 AM to 8:00 PM


Thursday

· From 10:00 AM to 8:00 PM


Friday

· From 10:00 AM to 8:00 PM


Saturday

· From 10:00 AM to 8:00 PM


Sunday

· From 10:00 AM to 8:00 PM