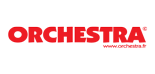 ORCHESTRA
Open today
From 10:00 AM to 8:00 PM

01.86.90.54.61
For more than 20 years now, Orchestra has been the specialist in children's fashion, maternity wear and childcare products in France and abroad.
A powerful actor on the market with more than 650 points of sale and more than 2,800 employees in 40 countries, the brand offers specially designed, high quality products, always at competitive prices, which are sold at shops of sizes ranging from 500 to 5,000 m².
Orchestra was the first chain to develop the concept of a one-stop shop combining everything consumers need for babies and children, all under the same roof.
Nowadays, Orchestra offers the largest clothing selection with more than 80 million items sold annually, more than 100 new children's fashion items weekly and 3,500 clothing models each season.
The chain also sells the biggest brand names in childcare products, totalling more than 10,000 models, plus its Prémaman maternity brand.


Opening Hours
Monday

· From 10:00 AM to 8:00 PM


Tuesday

· From 10:00 AM to 8:00 PM


Wednesday

· From 10:00 AM to 8:00 PM


Thursday

· From 10:00 AM to 8:00 PM


Friday

· From 10:00 AM to 8:00 PM


Saturday

· From 10:00 AM to 8:00 PM


Sunday

· From 10:00 AM to 8:00 PM