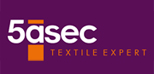 5 A SEC
Open today
From 10:00 AM to 8:00 PM

01 74 25 78 19
5 A SEC: for all types of dry-cleaning
The 5 à Sec store offers a fast and quality dry-cleaning and ironing service, at an affordable price. Clothes, curtains, table cloths, hangings etc: whatever the kind of item you entrust to us, 5 A SEC offers solutions and guarantees meticulous and rigorous work.You can also leave your leather or suede garments; these will be treated in a specialist workroom in order to achieve an impeccable result. Some items may even be ready for collection only two hours after you left them!
Dry-cleaner's 5 A SEC Aéroville: give the best care to your clothes
"5 à Sec": only 5 prices, cleaning in 1 hour for certain items, hand-cleaned quality, open all-day (6 days a week, all year round), an irreproachable welcome for customers and 40 years of experience at your service, allowing us to offer quality services. Thus you can entrust your best clothes to 5 A SEC Aéroville with full peace of mind!
Opening Hours
Monday

· From 10:00 AM to 8:00 PM


Tuesday

· From 10:00 AM to 8:00 PM


Wednesday

· From 10:00 AM to 8:00 PM


Thursday

· From 10:00 AM to 8:00 PM


Friday

· From 10:00 AM to 8:00 PM


Saturday

· From 10:00 AM to 8:00 PM


Sunday

· From 10:00 AM to 8:00 PM