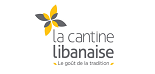 LA CANTINE LIBANAISE
Open today
From 10:00 AM to 11:00 PM

01 74 25 15 82
How about taking a gourmet break during your shopping to discover our new restaurant La Cantine Libanaise.
Our cuisine will make you fly all the way back to Lebanon just by tasting the typical dishes, such as the famous Hommous and eggplant mashed potatoes. Young or old, it doesn't matter, you will appreciate our variety of dishes and their freshness. And for the greedies, you will love our deserts filled with pistachios and some orange blossom, our traditional ice cream, or having those smothies or fresh juices.
Don't forget to pass by our grocery store where you can find plenty of lebanese products.