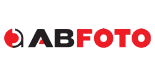 AB FOTO
Closed today

AB Foto is a chain of several dozen photo studios throughout Poland with a wide range of cameras, smartphones, tablets and accessories. It is dynamically developing its offer of photographic services, offering its Customers: photos for documents (including ID cards, driving licenses, visas, diplomas, school and student identity cards - all types of photos for documents are taken on the spot in a few minutes), express photos (10x15, 13x18 and 15x20 cm; gloss or matte), AB Photo-pictures, AB Photo-calendars and many formats of AB Photobooks.
AB Foto is an official distributor of such companies as: Nikon, Panasonic, Samsung, Olympus, Microsoft, FujiFilm, GoPro, Sandisk, Hama, Sigma, Case Logic, Tiffen. AB FOTO is also a partner of Orange. Thanks to this, in AB FOTO stores, one can sign or renew an agreement for Orange services, as well as buy top-ups. Buying AB FOTO products with the Orange service customers can gain up to PLN 1,000.
The main advantage of AB Foto is providing customers with a wide selection of photographic and mobile products, professional advice, competitive prices and friendly and pleasant service. AB Foto is also an online store www.abfoto.pl which enjoys great trust among customers, having a wide range of products at very attractive prices.
We cordially invite you to our showroom.
Opening Hours
Monday

· From 10:00 AM to 10:00 PM


Tuesday

· From 10:00 AM to 10:00 PM


Wednesday

· From 10:00 AM to 10:00 PM


Thursday

Closed

Friday

· From 10:00 AM to 10:00 PM


Saturday

· From 10:00 AM to 10:00 PM


Sunday

Closed
See all offers
*Offers are subject to availability. Offres can not be redeemed in cash. Only one offer per person and visit is allowed. Offers can not be used in combination with other offers and vouchers. Offers ar not valid on purchase of gift cards or other prepaid payment products.
---