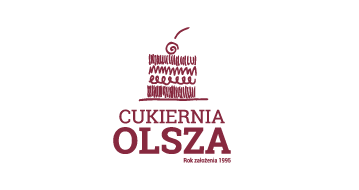 Cukiernia OLSZA
Open today
From 9:00 AM to 10:00 PM

Our sweet adventure began in 1995, when we founded our bakery and confectionery shop. CUKIERNIA OLSZA is a family brand with an extensive tradition. Thanks to our broad experience and modern technologies, we make our products according to the highest standards.
Our attention to the quality and taste of our cakes, pastries and cakes has taken our products to homes all over the country. What we make is appreciated across generations, and our craftsmanship and expertise let us to create desserts, cakes or pies that not only delight with flavour combinations but also are like small works of art with their beautiful visual form. At the request of our customers, we prepare original, unique, and customised cakes for every occasion. In addition to our flagship products from a wide range of cakes, at CUKIERNIA OLSZA you will also find delicious and aromatic coffee to help you break away from everyday life, if only for a moment. In the summer season, we invite you to enjoy our artisan ice cream in a variety of flavours, always fresh and delicious.
We meet the expectations of the most demanding customers and lovers of refined confectionery, bringing smiles to the faces of our small and large visitors. If you too are a dessert fan and like to indulge in the taste of homemade baked goods more often than at Christmas, visit us and you certainly won't regret it!
We look forward to welcoming you!
Opening Hours
Monday

· From 9:00 AM to 10:00 PM


Tuesday

· From 9:00 AM to 10:00 PM


Wednesday

· From 9:00 AM to 10:00 PM


Thursday

· From 9:00 AM to 10:00 PM


Friday

· From 9:00 AM to 10:00 PM


Saturday

· From 9:00 AM to 10:00 PM


Sunday

Closed