3 Style Elements You NEED to Create an Amazing Work Outfit
Julianna
Hello, Gorgeous! I'm Julianna, the creator behind the fashion blog Blush & Camo. I am an Army officer by day and blogger by night! Early on in my career I realized I needed a creative outlet and loved styling clothes. A year later, Blush & Camo was created!
Think of my fashion blog as your own personal stylist! Everyday Blush & Camo shares fashion tips and the latest trends to help elevate your everyday style.
Today I'm sharing three style elements you NEED to create an amazing work outfit!
I recently spoke at an event called #StyleBoss hosted by Westfield Southcenter Mall! At the event I shared my best tips for creating stylish work outfits every single day.
There was some irony the night I spoke at the #StyleBoss event! Exactly two years earlier I was deploying overseas, and in my carry-on bag I had four blogging books talking about various website platforms, what the heck SEO is, and explaining how to utilize different widgets. I knew when I arrived back home I would start my blog and wanted to learn as much as possible before I began my fashion blogging journey!
Jump to the #StyleBoss event exactly two years later and I'm speaking to an amazing group of women about how to create stylish work-appropriate outfits and living out my dream!
I'm so excited to share with you all my tips for creating stylish work appropriate outfits in today's post!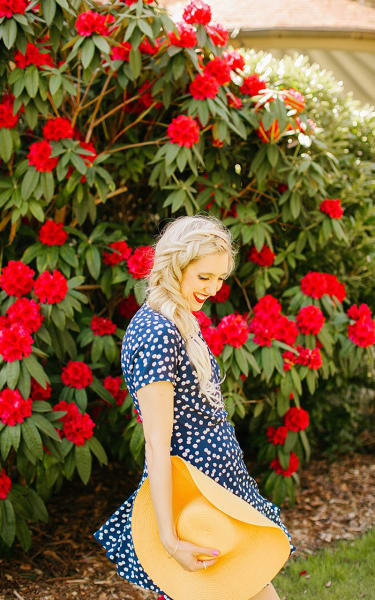 Length 
Incorporating varying lengths into your work outfit is essential to adding an overall chic vibe in the subtlest way possible. This style element is also the easiest to incorporate into your look.
This wrap dress from Francesca's is a work-appropriate dress and easily goes from day to night! Add a blazer during the day and then remove the blazer for night!
Material
Mixing materials is another style element you want to incorporate into your work day outfit. Following this style tip not only prevents your look from appearing too monotone, but also gives your look a more luxurious feel.
"Mixing material doesn't need to be a fashion statement, just a way to add more style into your look!"
Color
Incorporating color is an elegant way to increase the chicness of your outfit, especially if you're stuck in a pattern of wearing black all the time.
If your workplace is more formal, try incorporating more neutrals such as blacks, grays, and camel tones into one cohesive look.
If your workplace is less formal, sticking with neutrals and incorporating light colors such as blush is the perfect way to appear both professional and stylish!