VisArts Walk
A ROTATING ART EXHIBIT
ABOUT VISARTS WALK
Westfield Montgomery has partnered with VisArts to bring exhibitions to guests and art lovers on a quarterly basis. 
Launching this November, three regional artists will have their works of art featured on vacant store fronts throughout the mall. 
VisArts is a 501 (c)(3) independent, non-profit organization. Their mission is to transform individuals and communities through the visual arts. Their vision is a vibrant, diverse community enriched and connected by the visual arts.
Featured Artists | November 2019 - January 2020 
Four Seasons by Liliane Blom
Four Seasons is both an exploration of the seasons of the year as well as the seasons of a woman's life. From the maiden still unformed and searching for her power to the mother whose strength is the bounty of the earth and the wise grandmother who leads the tribe with her thoughtful advice. The artist has created a series to honor all women and our common mother the earth.
Art located - Next to the Cheesecake Factory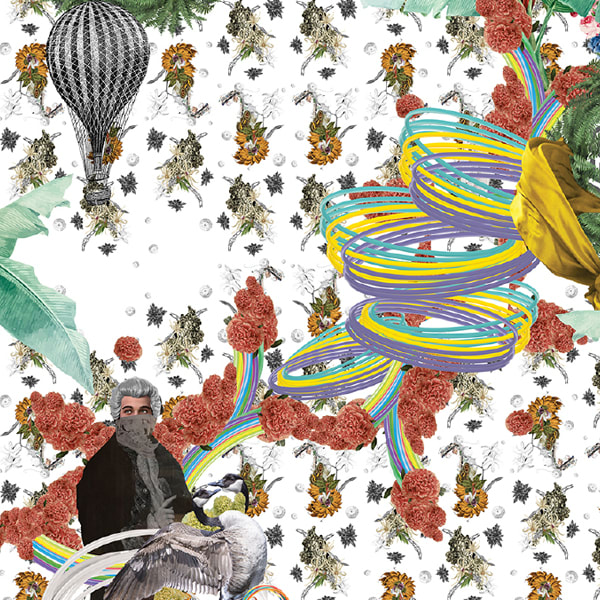 Garden Folly
Garden Folly explores and juxtaposes the Colonial with the Contemporary, the organic with the mechanical, and the secular with the spiritual. It utilizes the motif of the pineapple and the highly ornate and often extravagant style and methods of Baroque design to produce drama, a sense of movement, and awe.
Art located: Upper Level, Next to Nordstrom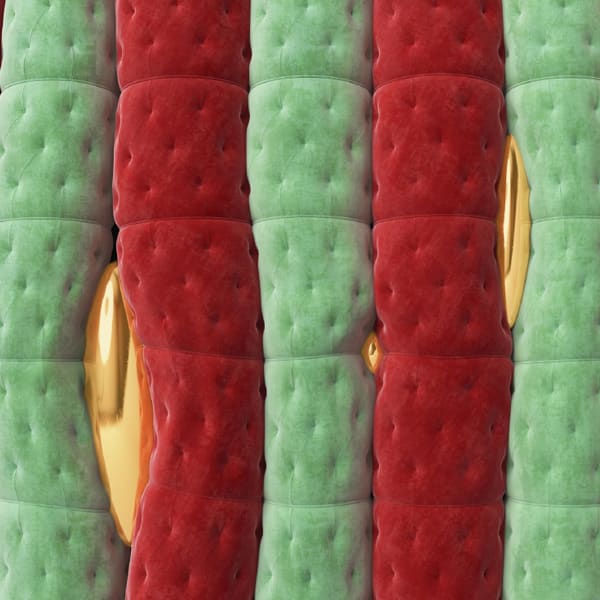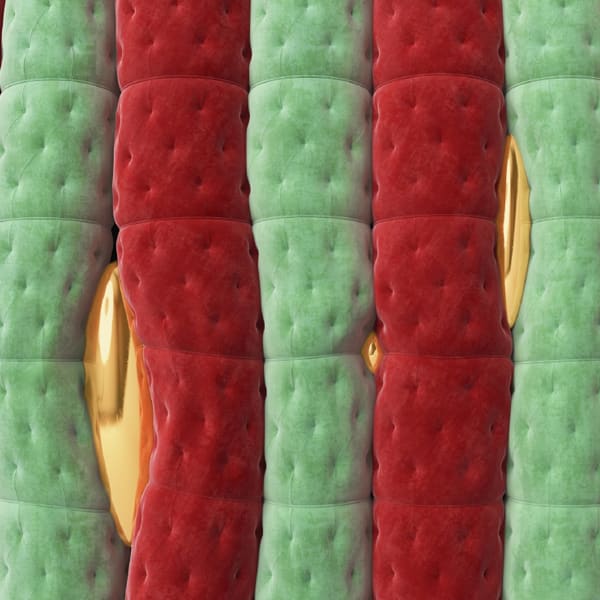 Holiday Greetings Earthlings
Luxurious fabrics clash with eerily organic gold forms, resulting in a Holiday decoration from another dimension. Created with 3D modelling software, the work blurs the boundaries between the real and virtual, and between the familiar and alien. 
Art located - Upper Level, Next to Love Sac
Liliane Blom
Liliane Blom is a multimedia artist, as well as a classically trained painter and award-winning photographer whose distinct style mixes her love of different media into a new one. With a fusion of video, photography, and painting, her art is often interactive and immersive, and typically environmental in scope.
Her works are playful, multi-sensory experiences that engage the viewer with sight, sound and motion, unapologetically appealing to our sense of wonder. Personal and poetic, rhythmic and layered, her work merges the world of sound and vision, the internal with the external. It focuses on the invisible borderlines that separate me from you, us from them, reality from fantasy, childhood from adulthood, life from death, and humans from the rest of the natural world.
Liliane is based in the Washington DC area, of French/Norwegian descent. She has been a frequent exhibitor in various institutions, galleries, and events in the Washington region, and has received multiple First Place and Best of Show awards for her works in mixed media, photography, and painting.
More About Liliane
Frank McCauley
Frank McCauley was born in Jacksonville, Florida in 1980. Upon receiving his B.F.A. in painting from Winthrop University in 2003, he moved north to Syracuse, New York where he attended Syracuse University and received his M.F.A. in 2008. McCauley has been the Director and Curator for Spark Contemporary Art Space in Syracuse, New York, the Assistant Director and Chief Curator for the Sumter County Gallery of Art in Sumter, South Carolina, and is currently the Assistant Curator for VisArts in Rockville, Maryland.
As an artist his work has been presented in numerous group exhibitions both nationally and internationally and in solo exhibitions in South Carolina, Maryland, California, New York, as well as South America.
More About Frank
Jonathan Monaghan
Jonathan Monaghan (b. 1986, New York) is an artist working across a range of media, including prints, sculpture and computer animated video, to produce otherworldly objects and narratives. Drawing on wide-ranging sources, such as historical artworks and science fiction, his highly-crafted and fantastical works uncover subconscious anxieties associated with technology and consumerism.
Past exhibitions and screenings of his work include The Sundance Film Festival, The Hermitage Museum, The Frist Art Museum, and The Palais de Tokyo. His work has been featured in several media outlets including The New York Times, The Wall Street Journal and The Village Voice.
More About Jonathan