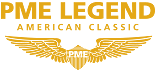 PME Legend
Open today
From 10:00 AM to 8:00 PM

0208-63596464
First PME Legend Flagship store in Germany
The Flagship store will be totally decorated with the PME Legend collection and reflects the PME Legend Feel & Look. PME Legend's unique cargo-pilot concept is found everywhere in this brand store. Until now, this brand was sold in Germany by independent retailers and counts more than 500 points of sale in Germany.
The world of PME Legend
PME Legend celebrates the rugged life of the cargo pilot, with a collection inspired by the iconic propliners they fly. PME Legend men are strong, determined and never follow the crowd. They are pioneers who like to spread their wings. To these cargo pilots the world is their home. You will see them in the remotest wilderness but also in the town centre. Everywhere they go, they are looking for just one thing: freedom and adventure. Take a flight into the world of PME Legend.
Opening Hours
Monday

· From 10:00 AM to 8:00 PM


Tuesday

· From 10:00 AM to 8:00 PM


Wednesday

· From 10:00 AM to 8:00 PM


Thursday

· From 10:00 AM to 8:00 PM


Friday

· From 10:00 AM to 8:00 PM


Saturday

· From 10:00 AM to 8:00 PM


Sunday

Closed