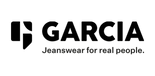 GARCIA
Closed today

0208 44474555
Geboren in Italien, aufgewachsen in den Niederlanden, weltweit getragen. Eine Jeansmarke, die Menschen zusammenbringt und Verbindungen schafft, die über nationale Grenzen und die DNA hinausgehen. GARCIA ist für Familien, aber auch für Menschen, die gerne zusammen sind: Wir glauben, dass das Leben gemeinsam besser ist. We are GARCIA. Die Kombination aus italienischer Leidenschaft und Finesse mit typisch niederländischem Unternehmertum ist bis heute der Schlüssel zur Modemarke, bei der "everyday jeanswear with a mediterranean soul" für die ganze Familie im Mittelpunkt steht.
Opening Hours
Monday

· From 10:00 AM to 8:00 PM


Tuesday

· From 10:00 AM to 8:00 PM


Wednesday

· From 10:00 AM to 8:00 PM


Thursday

Closed

Friday

· From 10:00 AM to 8:00 PM


Saturday

· From 10:00 AM to 8:00 PM


Sunday

Closed
See all offers
*Offers are subject to availability. Offres can not be redeemed in cash. Only one offer per person and visit is allowed. Offers can not be used in combination with other offers and vouchers. Offers ar not valid on purchase of gift cards or other prepaid payment products.
---