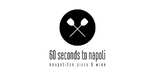 60 seconds to napoli
Open today
From 11:30 AM to Midnight

+49 (0) 208 78 256 634
60 seconds to napoli steht für echte neapolitanische Pizza mit sehr hochwertigen Zutaten, die direkt aus Neapel importiert werden.Der Teig ruht bis zu 72 Stunden und wird bei 485 Grad in einem echten neapolitanischem Izzo Forni Ofen für 60 Sekunden, gebacken.
60 seconds to napoli wurde zur beliebtesten Pizzeria In NRW, Berlin und Sachsen gewählt (Falstaff) und gehört zu den einzigen fünf Pizzerien in Deutschland, die von der AVPN zertifiziert wurden.
Ein unvergessliches Gasterlebnis.
Opening Hours
Monday

· From 11:30 AM to Midnight


Tuesday

· From 11:30 AM to Midnight


Wednesday

· From 11:30 AM to Midnight


Thursday

· From 11:30 AM to Midnight


Friday

· From 11:30 AM to Midnight


Saturday

· From 11:30 AM to Midnight


Sunday

· From 12:00 PM to 11:00 PM