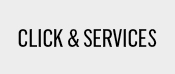 CLICK & SERVICES
Open today
From 11:30 AM to 8:30 PM

0144768706
DETAXE
Experience the new and enhanced Tax Free shopping service at Forum des Halles on your next trip to Paris.

Forum des Halles, will now allow you to claim your VAT refund without reaching the minimum purchase amount of 175.01€. The process is simple: collect your purchase receipts from participating stores throughout the shopping centre and group these together to reach the €175.01 minimum spend needed in order to receive a

12%

VAT refund.
Once you have all your receipts visit the Click & Services (or the reception desk located on level 3 at Place Carrée) and present your purchases, receipts and Passport to the staff here who will be able to issue you with your Premier Tax Free form. After this point you should follow these the normal process for Tax Free shopping in France. Visit our 'How to Shop' section of the website for full details.
.
PARCEL COLLECTION POINT
Order online and have your parcel delivered with absolutely no fuss to Click & Services!





Come and use our fitting rooms – just what you need to try on the items you have ordered via Pickup and UPS straightaway.




Your new clothes aren't quite right? No worries, you can return them directly*.




*Subject to acceptance by the e-commerce site.
KEY LOCKERS
Inscrivez-vous sur www.keycafe.com pour pouvoir déposer vos clés dans nos casiers mis à votre disposition au Click & Services !
Vous pourrez ainsi partager l'accès à vos clés et être tenu informé en direct quand vos invités les récupèrent.
Opening Hours
Monday

· From 11:30 AM to 8:30 PM


Tuesday

· From 11:30 AM to 8:30 PM


Wednesday

· From 11:30 AM to 8:30 PM


Thursday

· From 11:30 AM to 8:30 PM


Friday

· From 11:30 AM to 8:30 PM


Saturday

· From 11:30 AM to 8:30 PM


Sunday

· From 11:30 AM to 7:00 PM