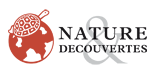 NATURE & DECOUVERTES
Open today
From 10:00 AM to 7:00 PM

01 47 03 47 43
NATURE & DECOUVERTES, the perfect blend of nature and innovation
The NATURE & DECOUVERTES stores are for nature and science enthusiasts and also for all those who are inquisitive and interested in discovering the world. Bird feeders, telescopes, perfumes and fragrances, nature sounds CDs, jewellery, decorative items, educational games and toys, trekking and garden accessories are just some of the ranges and products available in theNATURE & DECOUVERTES store at Carrousel du Louvre. Children and adults will enjoy venturing into the heart of the store for a fun and exotic shopping experience.
NATURE & DECOUVERTES store at Carrousel du Louvre: where nature awaits you
The
NATURE & DECOUVERTES
store at Carrousel du Louvre is open all day from 10am to 8pm, and invites you to a world full of emotion and surprises. Our store staff are waiting to advise you on our extensive range of products. Whether you are looking to find the ideal gift or to treat yourself with the object of your dreams, we will be delighted to guide you through the sections of our
NATURE ET DECOUVERTES
store at the Carrousel du Louvre. Each season has its new collections, so do not hesitate to visit us regularly.
For further information, visit our website at: www.natureetdecouvertes.com
Opening Hours
Monday

· From 10:00 AM to 7:00 PM


Tuesday

· From 11:00 AM to 7:00 PM


Wednesday

· From 10:00 AM to 7:00 PM


Thursday

· From 10:00 AM to 7:00 PM


Friday

· From 10:00 AM to 7:00 PM


Saturday

· From 10:00 AM to 7:00 PM


Sunday

· From 10:00 AM to 7:00 PM