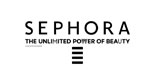 SEPHORA
Open today
From 10:00 AM to 8:00 PM

01 41 59 22 30
Unique, celebratory, generous, Sephora invented Beauty for all. And not just any beauty …
The one who cultivates the avant-garde via a revolutionary selection of ultra creative brands, in every price range and available on every continent. The one who liberates the senses with the freedom to see, to touch, to feel, to wander at will in the oh so restorative space of the stores. The one who vibrates with a febrile energy! An energy derived from the pleasure of discovery and of ever-renewed innovation. The one who makes you want to dare, to learn, to try, to play to tame your beauty and allow it to blossom, in all its splendour.
Sephora is dedicated to finding creative brands to offer you a daring and ever-wider range of products from the major names in the world of cosmetics. You can also enjoy all of the products from the Sephora brand, with a complete range of bath and body preparations, cosmetics, accessories and perfumes to meet everyone's needs and desires. Many and varied, creative and refined, manufactured to the most stringent quality standards, these products have been created to bring beauty within everyone's reach, a pleasure at once simple, joyous and always at the forefront of fashion!
Sephora, a destination where beauty is a dream that becomes a reality.
Opening Hours
Monday

· From 10:00 AM to 8:00 PM


Tuesday

· From 10:00 AM to 8:00 PM


Wednesday

· From 10:00 AM to 8:00 PM


Thursday

· From 10:00 AM to 8:00 PM


Friday

· From 10:00 AM to 8:00 PM


Saturday

· From 10:00 AM to 8:00 PM


Sunday

· From 10:00 AM to 8:00 PM