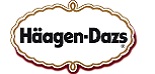 HÄAGEN DAZS
Open today
From 10:00 AM to 8:00 PM

01 74 25 75 00
Häagen-Dazs, your new food destination in the heart of Aéroville!

Come enjoy a Häagen-Dazs moment and dive into a world of indulgence and shared pleasures!
Häagen-Dazs, a genuine culinary experience. Savour your Häagen-Dazs moment and discover our range of 24 ice creams, including several Limited Editions and Store Exclusives, as well as delicious pastries and hot beverages. Let your imagination and pleasure run free to create your own composition or let yourself be seduced by the daring creations available exclusively in Häagen-Dazs stores, such as the iconic Cookie Crunch...

The brand has always strived to offer unique creations. An experience for the taste buds inspired by flavours from around the world, made using the finest ingredients, without any artificial colouring or flavouring. A demand for quality has been Häagen-Dazs's core philosophy for over 50 years.

The entire team at Häagen-Dazs Aéroville welcomes you every day from 9.30 AM to 8 PM.
Opening Hours
Monday

· From 10:00 AM to 8:00 PM


Tuesday

· From 10:00 AM to 8:00 PM


Wednesday

· From 10:00 AM to 8:00 PM


Thursday

· From 10:00 AM to 8:00 PM


Friday

· From 10:00 AM to 8:00 PM


Saturday

· From 10:00 AM to 8:00 PM


Sunday

· From 10:00 AM to 8:00 PM