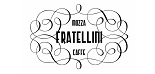 FRATELLINI CAFFE
Open today
From 11:00 AM to 11:00 PM

01 74 25 78 69
Within its stylish retro Italian café setting, Fratellini will introduce you to Italian home-style cooking.

Nothing is hidden, all is revealed! Unobstructed view over our "cucina", through our fully-transparent cold room, displaying quality produce imported directly from Italy. A traditional cast iron oven overlooks the bar, where our home-made Foccacia is baked before your eyes.

Come and explore our Mozzaria, with a menu entirely dedicated to the White Gold of Italy using original Mozarella-based recipes, as well as copious platters of antipasti, light and rich pizzas, and delicious pasta dishes.