#ARTSOCIETYBROWARD
A "local" art hub where ARTrepreneurs are celebrated!
Partnering with ArtServe, Inc., Westfield Broward has created a 3-month rotating art gallery called "The Art Society at Westfield Broward" dedicated to exhibiting and selling the work of local artists commission-free! The Art Society at Westfield Broward serves one of the most diverse populations in Broward County, where a multitude of cultures converge, creating an energetic atmosphere and a solid sense of community. With its new upgrades, merchandise mix, amenities, theater, and sit-down restaurants the NEW Westfield Broward is creating a venue where all your senses can be fully engaged.
Visit our Art Society walls from Monday-Saturday 10 AM- 9 PM & Sunday 10-6 PM (located in the dining court near Footlocker).  
GET FEATURED: If you're an artist and would like to be featured in our next Art Society series, contact ArtServe, Inc. at SophieB@ArtServe.org

---
WESTFIELD WALLS SERIES 
Enjoy Westfield Broward's Urban Street Art Collection from artists: Renda Writer, Emmanuel Gonzales, & Resq77. 
All artwork on display is available for purchase, and sales support the individual artists and local cultural community.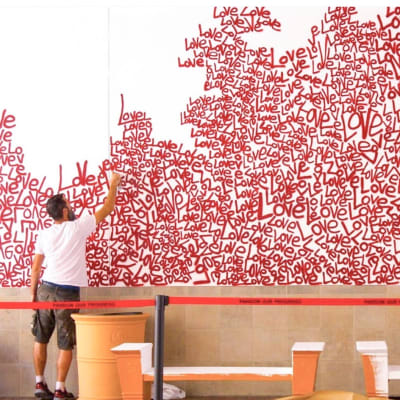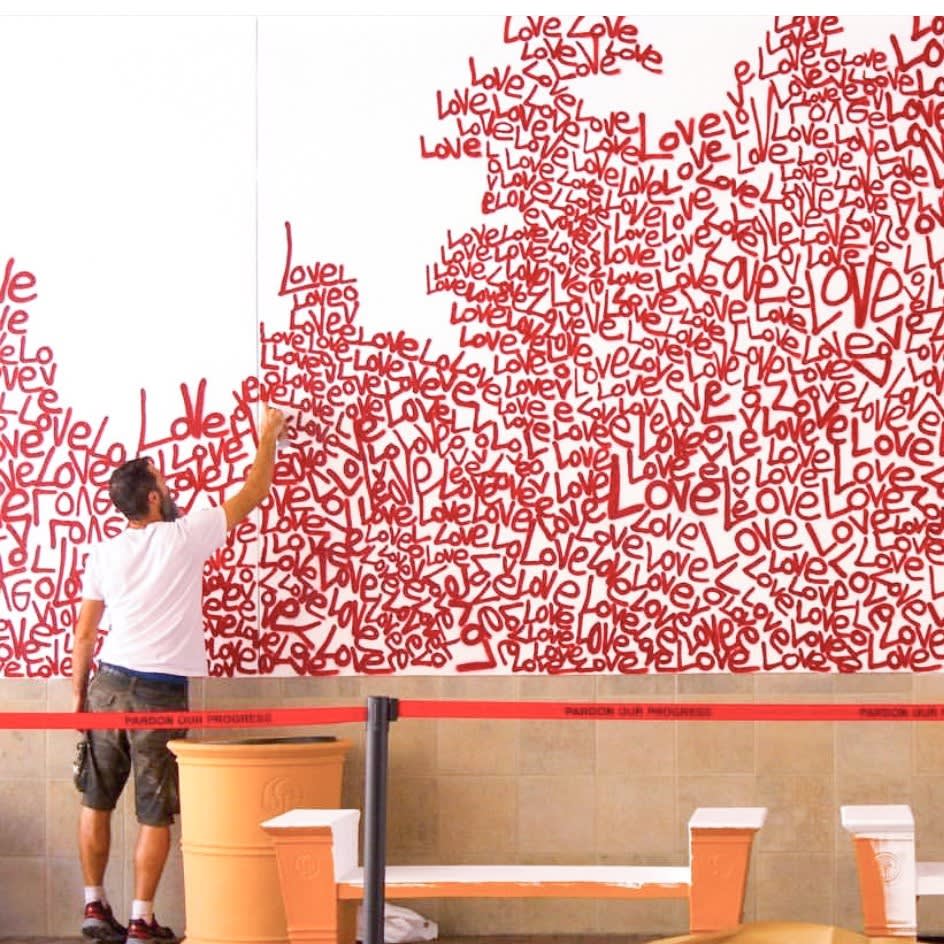 As an artist, Renda Writer stands firmly behind the central idea expressed in his artist statement, where he says, "My goal as an artist is to make my handwriting into visual art and to shed light on the general idea that handwriting can be seen as art, reminding viewers that the art is in what the words say, how they look, and how they're written." As a visual artist, Renda first started creating in 2010, after several years as a poet.  He started by creating the "Handwritten" brand, which eventually blossomed into a virtual empire of "Handwritten" products.  With his art, Renda likes to emphasize and gravitate toward concepts and themes of brevity, nature, inspiration, the struggle, the hustle, affirmations, and the concept of "She" as a pronoun that will never get old.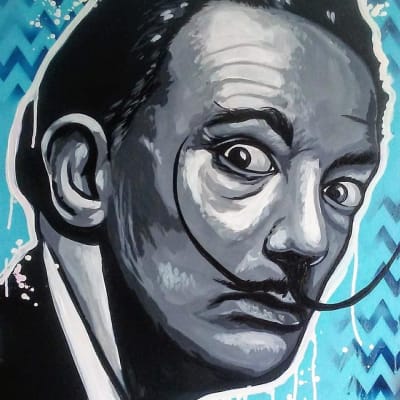 Emmanuel Gonzales' artwork has a bold and edgy style fusing together collage, pencil, pastel, watercolor, and oils to create movement and energy. The resulting pieces are a balance of strong imagery and intimacy, achieved with an attention to subtleties often refined through detailed work. His body of art explores the past and present through realism and portraiture and includes a growing retrospective of American icons where each piece is presented as a fragment in a larger American patchwork.
From the artist:
"Individually, my subjects characterize the social climate at a given moment in history; the images are influential and relevant to certain ethnic or social groups. Some are intentionally foreign to non-members of a particular group or generation, creating a 'recognition factor' which reaffirms the identity and unique cultural perspective of one part of society while simultaneously establishing a feeling of "otherness" in viewers on the outside. Just as members of one social circle might identify emotionally with an image through a shared social lens, outsiders will experience these images differently. Ideally, then, my work will create a juxtaposition of the viewer's identity with the identity of others and will encourage them to consider their place as an individual part of a larger whole."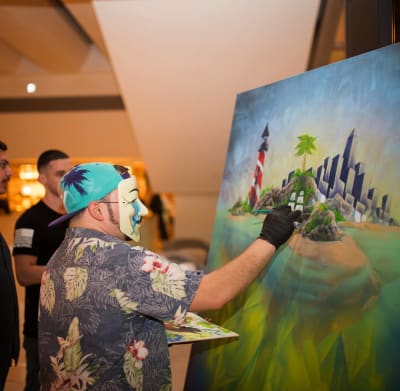 RESQ 77 is a local Broward County artists who always had a love for graffiti art ever since he was a child. RESQ 77's style brings graffiti & design into a surreal perspective. His mix of Spray paint and Fluid Acrylic has been versatile in the artistic opportunities he has tackled. RESQ 77's used his painting and spray paint skills in his "Tropiculture" series that is displayed in the Art Society walls.
"The goal of the series is for each painting to uniquely empower people to see all South Florida as a tropical paradise to be proud of and respectfully admire/take care of it. This will be done through surrealistic symbolism, color, and subject of matter."
---
---