WESTFIELD WALLS
A Desert Art Experience
Over a dozen artists have brought public art to life at Westfield Palm Desert. Take a free tour today.
---
The Deck Murals
The walls of our third level parking deck  near Macy's are home to nearly 40 murals created by reknown graffiti artists and painters from across the globe. Largely curated by Flat Black Art Shop, we encourage you to snap a selfie, take a family portrait, or just tour the collection and tag @westfieldpd. 
Coachella x Kenya
Coachella-born painter Adam Enrique Rodriguez and Kenya-born graffiti artist Wise Two collaborated on a stunning mural celebrating cubism and African street art, located near Palm Desert 10 Cinemas.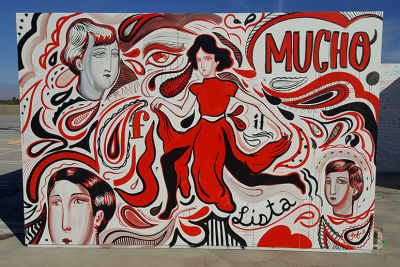 The Cube
Experience the work by diverse Desert artists Sofia Enriquez, Adam Enrique Rodriguez, Splugio, and Qwest Coast on self-standing walls at The Deck. Then peek inside the square for sweet scribes by local poets and our community. 
Rick Rodriguez
The walk towards our Dining Court just got infinately cooler; check out the pop-art style of graffer Rick Rodriguez along the walls and ceiling and follow him on Insta at @ibelieveinasone.
Valley Code
This 80' mural by Adam Enrique Rodriguez is a unique interpretation of the desert landscape; hidden code is incorporated throughout the roadways and mountainscapes.  Level 2, near Stuft Pizza.