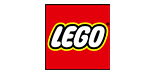 LEGO®
Open today
From 10:00 AM to 10:00 PM

22 417 33 10
Welcome to the first official LEGO® shop in Poland! It is a must-visit place for both parents with children and adult fans of the brand. At our shop you will find not only a wide range of LEGO® sets and a place to play with the bricks, but you can also experience the LEGO® world even more vividly with a special screen where LEGO® minifigures will mimic your every move. The shop also offers limited edition series and sets not available in other sales channels.
The LEGO Group was founded in Billund, Denmark, in 1932 by Ole Kirk Kristiansen, and its name is derived from the two Danish words 'Leg' 'Godt', meaning 'Have fun'.
The LEGO Group's mission is to inspire and develop the builders of the future, using the power of play. The LEGO System in Play concept, based on the use of LEGO® bricks, allows children and fans to build and re-build anything they can imagine.
Opening Hours
Monday

· From 10:00 AM to 10:00 PM


Tuesday

· From 10:00 AM to 10:00 PM


Wednesday

· From 10:00 AM to 10:00 PM


Thursday

· From 10:00 AM to 10:00 PM


Friday

· From 10:00 AM to 10:00 PM


Saturday

· From 10:00 AM to 10:00 PM


Sunday

Closed