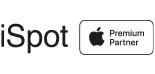 iSpot
Closed today

+ 48 22 460 00 55
In the modern iSpot showroom in Westfield Arkadia, customers find a full range of Apple products, including popular iPhones, iPads, iPods, famous MacBook laptops, iMac computers. It also includes all related accessories, as well as professional advice and the possibility of testing any equipment and training in its applications.
It is the only chain of stores in Poland that meets the restrictive requirements of the international Apple Premium Reseller program.
The iSpot team consists of certified specialists who have the knowledge to adjust the solutions to the real needs of the customer and to present the latest solutions currently available in the world.
Visiting the iSpot stores, the customer has the opportunity to test each solution in the showroom and participate in free thematic workshops.
iSpot is not only a solution for professionals, it is also the largest selection of iPod players and accessories immediately available in Poland.
The iSpot showrooms offer is built from high quality exclusive products, selected in such a way that they work perfectly together and have a unique style and character.
Opening Hours
Monday

· From 10:00 AM to 10:00 PM


Tuesday

· From 10:00 AM to 10:00 PM


Wednesday

· From 10:00 AM to 10:00 PM


Thursday

Closed

Friday

· From 10:00 AM to 10:00 PM


Saturday

· From 10:00 AM to 10:00 PM


Sunday

Closed
See all offers
*Offers are subject to availability. Offres can not be redeemed in cash. Only one offer per person and visit is allowed. Offers can not be used in combination with other offers and vouchers. Offers ar not valid on purchase of gift cards or other prepaid payment products.
---