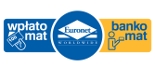 Euronet
Closed today

Euronet Polska Sp. z o.o. is a subsidiary of Euronet Worldwide, the world leader in the processing of secure electronic financial transactions and the owner of the largest ATM network in Europe.
The company has been operating in Poland since 1995. During several years of presence in the Polish market, Euronet has established cooperation with leading Polish banks, mobile telephony and VoIP operators, as well as retail outlets and petrol station chains.
Euronet is the owner of the largest independent ATM network in Poland. Currently, Euronet manages every fourth ATM in Poland. Thanks to the cooperation between the company and banks, an increasing number of customers can use Euronet ATMs without commission or on preferential terms.
Euronet ATMs are the largest network of machines in Poland, allowing quick and safe cash deposit - when and where you want, and as much as you need at the moment. Euronet deposit machines can be used by anyone, regardless of which bank they have an account with. Simply register once with the Euronet Online System at www.euronetpolska.pl. Customers of Alior Bank, Citi Handlowy, Bank Pocztowy, Getin Bank, mBank, Plus Bank and Idea Bank use ATMs on preferential terms and conditions established by each of these banks, in accordance with the applicable fees and commissions table.
Euronet's deposit machines, known as recyclers, are closed-circuit devices, i.e. the funds deposited may be withdrawn at the time of subsequent withdrawals. These devices combine two basic services offered by Euronet Polska - withdrawal and cash deposit.
Opening Hours
Monday

· From 10:00 AM to 10:00 PM


Tuesday

· From 10:00 AM to 10:00 PM


Wednesday

· From 10:00 AM to 10:00 PM


Thursday

· From 10:00 AM to 10:00 PM


Friday

· From 10:00 AM to 10:00 PM


Saturday

· From 10:00 AM to 10:00 PM


Sunday

Closed