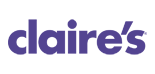 CLAIRE'S
Open today
From 10:00 AM to 8:30 PM

01 42 61 14 69
CLAIRE'S is still the leading store for costume jewellery and fashion for girls and young women who are looking for something original!
Head on down to your Forum des Halles store for a huge range of jewellery, hair accessories, stationery, handbags, etc. And also all the accessories you need for your fancy-dress parties.
We offer, in addition to hundreds of on-trend accessories, many different types of ear piercing as well as a service which is exclusive to CLAIRE'S where both ears are pierced simultaneously!


Opening Hours
Monday

· From 10:00 AM to 8:30 PM


Tuesday

· From 10:00 AM to 8:30 PM


Wednesday

· From 10:00 AM to 8:30 PM


Thursday

· From 10:00 AM to 8:30 PM


Friday

· From 10:00 AM to 8:30 PM


Saturday

· From 10:00 AM to 8:30 PM


Sunday

· From 11:00 AM to 7:00 PM