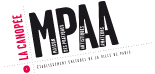 THE MAISON DES PRATIQUES ARTISTIQUES AMATEURS (CENTRE FOR AMATEUR ARTISTIC PRACTICES)
Open today
From 10:00 AM to 7:00 PM

01 46 34 68 58
The Maison des Pratiques Artistiques Amateurs comprises 5 large rehearsal rooms for theatre, music and dance and 1 broadcasting studio (shared with the Conservatory and La Place) big enough for very large orchestras and choirs for rehearsal and public performances. Of these 6 spaces, 3 have been set aside for music groups and choirs, and the remainder for theatre and dance.
The Maison des Pratiques Artistiques Amateurs also provides instruments: percussion instruments, keyboards, drums, pianos, harps, double basses, digital pianos, amplifiers, etc.
Overall, 80% of the timetable slots for the rooms is set aside for amateur association companies. The remaining 20% is used for artistic workshops organised by the MPAA and its partner institutions.

In addition to providing rehearsal space, the MPAA/La Canopée, given its location, promotes the implementation and development of amateur artistic projects, within the Paris area, by facilitating exchanges between Paris Centre and greater Paris.

Opening Hours
Monday

Closed

Tuesday

· From 2:00 PM to 10:00 PM


Wednesday

· From 2:00 PM to 10:00 PM


Thursday

· From 2:00 PM to 10:00 PM


Friday

· From 2:00 PM to 10:00 PM


Saturday

· From 10:00 AM to 7:00 PM


Sunday

· From 2:00 PM to 7:00 PM