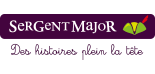 SERGENT MAJOR
Open today
From 10:00 AM to 8:00 PM

01 74 25 74 26
Segent Major fashions make it easy for parents to dress their children
It was in 1987 that Paul Zemmour decided to set up Sergent Major, named to honour the writer who accompanies every French child throughout their schooldays. Sergent Major soon became a mirror for the brand's values, with collections of children's wear with the emphasis on craftsmanship and ever-elegant outfits, even for the youngest child. Sergent Major makes it a point of principle to select quality fabrics and to create clothes whose cut is perfectly suited to the way that children move. The Sergent Major store in the Aéroville Shopping Center stocks all of the latest collections, imbued with imagination, creativity and understanding.
Sergent Major – Aéroville: collections for every little girl and every little boy
Parents and children alike will love to visit the new Sergent Major collections in the Aéroville Shopping Center. You will find babycare items, a newborn range, outfits for babies between 3 and 24 months, plus ranges for children from ages 2 to 7 and ages 8 to 14. The fabrics used are soft to the touch and easy to wash, for clothes that kids can wear every single day.
The Sergent Major gift card is absolutely free and can be used to earn points that turn into gift vouchers.
Opening Hours
Monday

· From 10:00 AM to 8:00 PM


Tuesday

· From 10:00 AM to 8:00 PM


Wednesday

· From 10:00 AM to 8:00 PM


Thursday

· From 10:00 AM to 8:00 PM


Friday

· From 10:00 AM to 8:00 PM


Saturday

· From 10:00 AM to 8:00 PM


Sunday

· From 10:00 AM to 8:00 PM