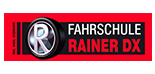 Fahrschule Rainer
Open today
From 8:00 AM to 4:00 PM

+43 1 203 86 11
Unser Motto: SCHNELLER – BESSER – BILLIGER !
Es ist uns ein Anliegen, dir den Weg zum Führerschein mit Hilfe modernster Ausstattung möglichst einfach, zeitsparend, nervensparend und vor allem so preiswert wie nur möglich zu gestalten. Da unsere Hauptwerbung die Mundpropaganda ehemaliger Fahrschüler ist, ist es für uns besonders wichtig, dass alle die Führerscheinprüfung beim erste Mal bestehen. Aus diesem Grund gibt es bei uns eine Durchkommensgarantie bei der PC-Prüfung. Diese soll dir als Ansporn dienen, dich gut auf die Prüfung vorzubereiten, und uns dabei behilflich sein, eine optimale Durchkommensrate zu erzielen. Nütze auch du die Vorteile der Fahrschule RAINER DX, wie schon über 15 000 zufriedene Kunden vor dir. Es würde uns freuen, auch dich dazu zählen zu dürfen.
-------- JETZT AKTUELL --------- B-Ausbildungspaket € 845,- mit 12 Fahrstunden
Opening Hours
Monday

· From 8:45 AM to 6:00 PM


Tuesday

· From 8:45 AM to 7:00 PM


Wednesday

· From 8:45 AM to 6:00 PM


Thursday

· From 8:45 AM to 7:00 PM


Friday

· From 8:45 AM to 6:00 PM


Saturday

· From 8:00 AM to 4:00 PM


Sunday

Closed
See all offers
*Offers are subject to availability. Offres can not be redeemed in cash. Only one offer per person and visit is allowed. Offers can not be used in combination with other offers and vouchers. Offers ar not valid on purchase of gift cards or other prepaid payment products.
---