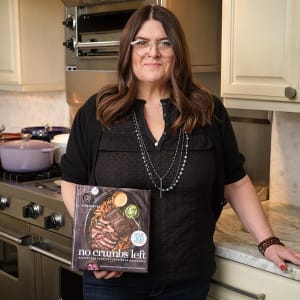 On Monday, June 10, 2019, Room & Board is hosting a special book signing and conversation with Teri Turner, author + the creator of the popular food and lifestyle blog: nocrumbsleft.
To celebrate the launch of her new cook book - No Crumbs Left: Whole30 Endorsed, Recipes for Everyday Food Made Marvelous - Teri is kicking off a national book tour where she will discuss No Crumbs Left and host talks with guest influencers at unique locations across 20 U.S. cities. The new Whole30 endorsed cookbook, on sale May 21, is a passionate collection of recipes for everyday food made marvelous and is available for pre-order now on Amazon, Barnes & Noble, Books-a-Million, Indie Bound and more.
After a lively talk with Rachel Connors of @bakeritablog and a fun Q&A session, attendees will receive a personalized book (included in the ticket price) along with the opportunity to take a photo with Teri & Rachel! Guests are also welcome to bring a previously purchased book to the event for Teri to sign. If you don't need the book that comes with your ticket, Teri has offered to pay it forward to a Crumble who may be unable to afford the cookbook.
Tickets are on sale now for $35 per person. Doors will open at 6:00 p.m. with nibbles and bites for guests to enjoy, following by the talk and Q&A at 6:45 p.m., and the book signing at 7:30 p.m. For more information, please contact the Room & Board showroom at 858.732.9535 or email sandiego@roomandboard.com.
chat with concierge