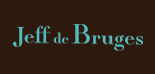 JEFF DE BRUGES
Open today
From 10:00 AM to 8:00 PM

01 49 19 51 11
Jeff de Bruges : The art of chocolate!

Eating, giving, receiving...chocolate is always a pleasure and Jeff de Bruges produces it in all its forms for every occasion: chocolate candies, bars and gift assortments. Whatever the product, the Jeff de Bruges master chocolatiers take great care in selecting their ingredients, meticulously replicate traditional skills and enrich their expertise with creativity and daring. This allows them to offer, in addition to the more classic recipes, culinary surprises and flavours that are original and unique. Jeff de Bruges is committed to turning chocolate into a pleasure that can be enjoyed on a daily basis by everybody, through providing excellent value for money.

Jeff de Bruges hasn't forgotten ice cream fans, it offers a dedicated space for ice cream lovers. Come and create the ice cream of your dreams by adding all the tasty toppings you desire. And discover the unbelievable creaminess of frozen yogurt...with 0% fat! And what if you let yourself be tempted? Jeff de Bruges are also masters of sugared almonds. Weddings, baptisms, communions, for all of life's great occasions Jeff de Bruges offers a huge selection of sweets and gift ideas. And to make this event unforgettable, we offer a unique and exclusive personalisation service.
Opening Hours
Monday

· From 10:00 AM to 8:00 PM


Tuesday

· From 10:00 AM to 8:00 PM


Wednesday

· From 10:00 AM to 8:00 PM


Thursday

· From 10:00 AM to 8:00 PM


Friday

· From 10:00 AM to 8:00 PM


Saturday

· From 10:00 AM to 8:00 PM


Sunday

· From 10:00 AM to 8:00 PM