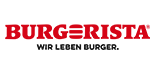 BURGERISTA
Open today
From 9:00 AM to 8:30 PM

+43 50 666 666
BURGERISTA. WIR LEBEN BURGER.
Für uns sind Burger nicht nur Business. Sie sind alles. Wir sind nicht einfach irgendein Burger Restaurant. Wir sind BURGERISTA – und haben die wichtigste Zutat überhaupt: Leidenschaft. Denn unsere Herzen brennen für Burger.
Regionales, frisches Rindfleisch ist für uns keine Vorschrift. Es ist eine Frage der Ehre. Deshalb machen wir American Burger so, wie es sich gehört – nämlich mit Leidenschaft. In unsere Burger Patties kommt ausschließlich frisch faschiertes Rindfleisch. Wir lieben jede einzelne Zutat jedes einzelnen Burgers. Wir falten das Salatblatt. Und wir tun das zärtlich.
Burger sollen satt machen. Und zwar im Bauch. Und im Kopf. Und im Herzen. Sie sollen Gaumen erobern. Ein Geschmacksfeuerwerkabfeiern. Ein sattes Grinsen hinterlassen.
Opening Hours
Monday

· From 9:00 AM to 7:30 PM


Tuesday

· From 9:00 AM to 7:30 PM


Wednesday

· From 9:00 AM to 7:30 PM


Thursday

· From 9:00 AM to 8:30 PM


Friday

· From 9:00 AM to 8:30 PM


Saturday

· From 9:00 AM to 6:30 PM


Sunday

Closed
See all offers
*Offers are subject to availability. Offres can not be redeemed in cash. Only one offer per person and visit is allowed. Offers can not be used in combination with other offers and vouchers. Offers ar not valid on purchase of gift cards or other prepaid payment products.
---