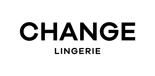 Change Lingerie
Open today
From 9:00 AM to 8:00 PM

We at CHANGE Lingerie have understood that the female body - especially the breasts - cannot be pressed in 5 or 6 standardized sizes. We have therefore developed our own size system in accordance to the individuality of each woman. Our sizes differ from the usual sizes, so don't be surprised if you suddenly play in a whole new league. Change Lingerie bras are available in sizes A to M and belt size 60 to 100. When you visit us in a store, we will measure you carefully to help you choose the right bra for you. If you prefer to measure yourself, you can do so online with our formula. The bra consultant will also recommend the right bra models for you. We simply do everything we can to help you find your perfect bra!
Opening Hours
Monday

· From 9:00 AM to 8:00 PM


Tuesday

· From 9:00 AM to 8:00 PM


Wednesday

· From 9:00 AM to 8:00 PM


Thursday

Closed

Friday

· From 9:00 AM to 8:00 PM


Saturday

· From 9:00 AM to 6:00 PM


Sunday

Closed
See all offers
*Offers are subject to availability. Offres can not be redeemed in cash. Only one offer per person and visit is allowed. Offers can not be used in combination with other offers and vouchers. Offers ar not valid on purchase of gift cards or other prepaid payment products.
---