Famous Rotisserie and Grill
Now  Open
Here at Famous we are a self-service all you can pick buffet style offering a wide variety of delicious home style dishes. Come try our mouthwatering bbq ribs, salmon, shrimp, bourbon chicken and many more. We are sure you will leave satisfied.
Kustom Pizza & Subs
Now Open
Eat big, Eat clean. Kustom Pizza & Subs allows you to make your own artisan pizza, sub, panini, torta or salad bowl with the finest high-quality ingredients. We source organic produce and our crusts are made from stone-ground non-gmo flour. Pile your meats high with our clean natural artificial-preservative free chicken, pork and ground beef or our jackfruit if your vegan. From farm to fountain even our craft sodas are organic and non-gmo try out our line of flavors from Tractor Soda today from Coconut Citrus to Ginger Beer, we have the most delicious unique sodas you have ever tasted! We have options for everyone so stop in today!
Learn More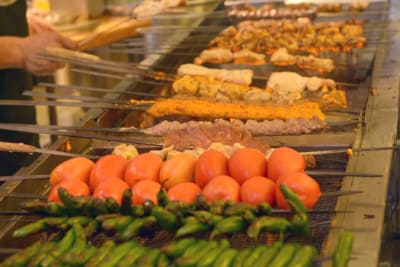 Grill Kabob
Now Open
Our Middle Eastern restaurant is known for its modern interpretation of classic dishes and its insistence on only using high quality fresh ingredients. We are serving fresh, tender and delicious,  Gyro sandwiches, Falafel, Kabobs , and salads.