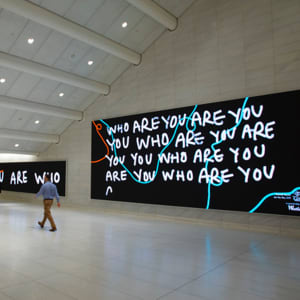 Oculus Event
APF & Westfield Presents Shantell Martin at Westfield Westfield World Trade Center
–
Art Production Fund and Westfield World Trade Center are proud to announce the sixth installment of an ongoing video art program featuring renowned artist Shantell Martin.
Are You You exposes some of the questions and repetitions we find ourselves asking: Are you being you? Are you being true? Are you YOU?
The work intentionally plants questions for viewers to reflect upon and consider as they pass through the center. These illustrations were designed by Martin on a digital tablet and were collected and animated by collaborate Optical Animal.
chat with concierge