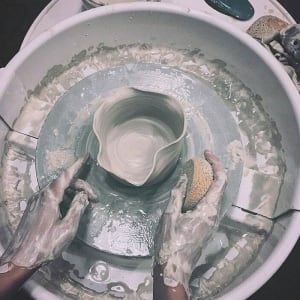 Bitter Root Pottery Valentines Day 2020 is around the corner! Reserve one of our special classes for you and your special someone!
Adult class per couple: $150 for our 2 hour beginner wheel throwing class which will also includes an assortment chocolates, cheeses, fruits and crackers with complimentary wine or champagne.
Schedule is as follows:
Friday Feb 14

11am - 1pm
1pm - 3pm
3pm - 5pm
5pm - 7pm
7pm - 9pm
Please email your reservation request and one of our staff will call you to confirm. Be sure to specify the time and location you are interested in with a phone contact number included .
For our other locations visit bitterrootpottery.com and click the location of your interest.
We hope to see you at our annual Bitter Root Pottery Valentines Day class 2020
Put your phone away and come play with clay!
valencia@bitterrootpottery.com
24201 West Valenica Blvd, Store 3110
Valencia, CA 91355
6618881578