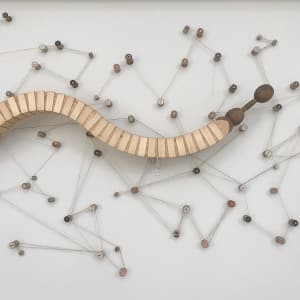 Town Center Art Space: Urban Objects at Westfield Valencia Town Center
–
Urban Objects
| | | |
| --- | --- | --- |
| Day | Date | Time |
| Friday | Sep 21 | – |
| Saturday | Sep 22 | – |
| Sunday | Sep 23 | – |
| Monday | Sep 24 | – |
| Tuesday | Sep 25 | – |
| Wednesday | Sep 26 | – |
| Thursday | Sep 27 | – |
| Friday | Sep 28 | – |
| Saturday | Sep 29 | – |
| Sunday | Sep 30 | – |
| Monday | Oct 1 | – |
| Tuesday | Oct 2 | – |
Town Center Art Space: Urban Objects by Aaron Kramer
Comments from the artist:
"Installation at the Valencia Town Center Art Space. It isn't often that I get almost 50 feet of uninterupted wall space. The sad closing of an old Sears store at the end of last year created this long facade wall. I had been hoping to do a wall of the spools since I first did a small one in the hallway behind my old studio in Venice. That was 10 years ago! There is cord, twine, string and wire all strung between these spools as the honey snake hovers in front. Anchored on either side by a droplet made from coffee stirrers and the right side with driftwood voids and a cork chair. The installation will be up until October 2nd."
"The installation features a work that has only been seen once before. Mrs. Howard's spools. Years ago I had an older friend who made ballroom dancing costumes. (She was also known to have put the tail in the first Playboy bunny) She and her husband owned a dry cleaning shop where they also tailored clothes. Mrs. Howard was a true collector. She kept most every used thread spool that she ever used up. Upon her death at 93 she left me a large bag with the spools. They sat in storage and moved from studio to studio until I made a wall piece ten years ago with some of them. That was a fraction of the vision that I had. This piece gets closer. There are 150 spools interconnected with various twine and thread. Hovering over them is a Honey Snake. Comprised of vintage honey collection boxes and coffee stirrers. On the left is a droplet made from coffee stirrers and on the right is a cork chair with two driftwood Voids above it."
#urbanobjects #aaronkramerartist