Fashion Week Survival Kit
With New York Fashion Week upon us, everyone I know is scrambling to plan their ensembles, organize their schedules, and mentally prepare for a week of organized, fashionable chaos. Sure, everyone wants to look great, but by the end of day one, we're already complaining about our aching feet, empty bellies, tired skin, and dead batteries. That's why I've shifted focus from planning what I'm wearing, and instead put together a list of Fashion Week necessities: a survival kit for the stylish masses. Here you'll find the essentials to help you get through the week: a tiny kit packed with everything from stain remover to dental floss, emergency flats to save you from those killer heels, a compact snack, and more. Get your kit together, put it in a soft sided bag (dust bags are perfect for this) and transfer it from handbag to handbag throughout the week.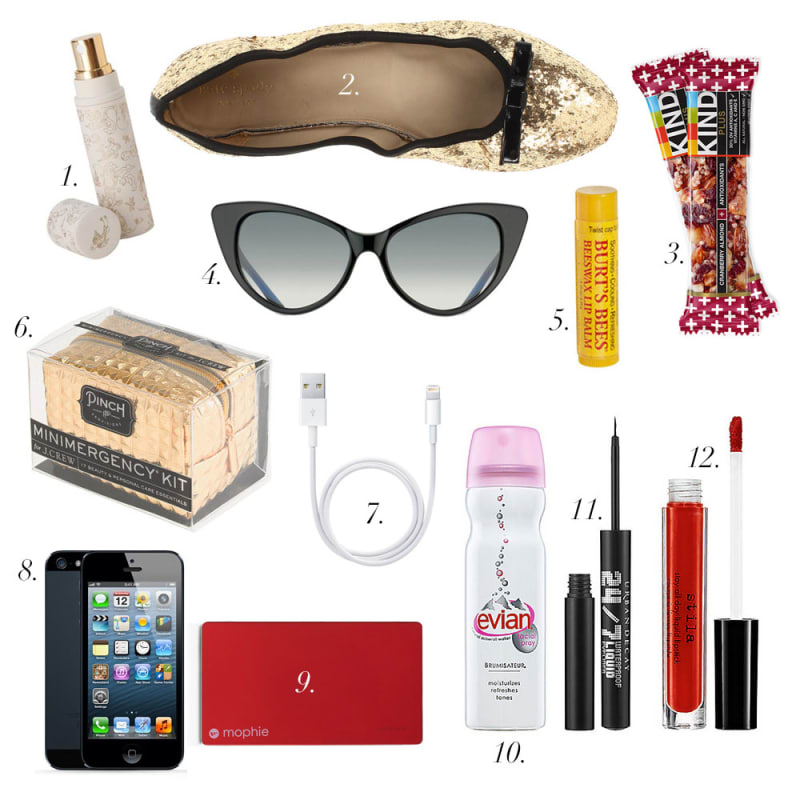 1. Travel perfume / Tocca "Stella"
2. Foldable flats, for tired feet / Kate Spade "Catcher" foldable flats
3. A mid-afternoon snack / Kind Bar
4. A great pair of shades / these are Tom Ford "Nikita"
5. Lip balm / Burt's Bees
6. An all in one life saver with bandaids, mending kit, polish, hair spray, etc. / Minimergency Kit
7. Charger cable
8. iPhone 5
9. External battery for extra charges / Mophie
10. Facial spray to set or refresh makeup throughout the day / Evian Mineral Water Spray To Go
11. Liquid Liner that lasts all day / Urban Decay 24/7 Liquid Liner
12. A stay-put red lip color, because a statement lip is the best accessory / Stila Stay All Day Liquid Lipstick in Beso