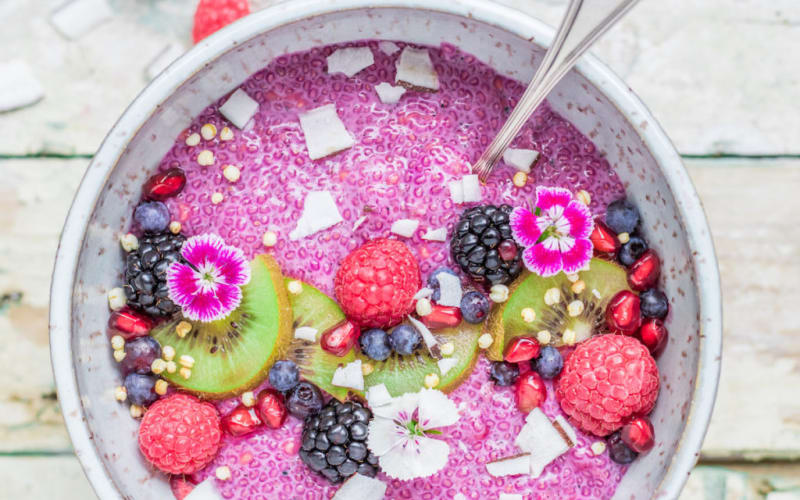 Committing to a healthier lifestyle is usually high on everyone's list of New Year's resolutions, but it's far easier said than done. To help, we've rounded up several sneaky ways to trick yourself into eating better this year. Ahead, check out six easy, manageable recipes that incorporate veggies and other nutritious ingredients into your diet. We promise you'll barely notice the difference!
1. Swap white rice for cauliflower.
VEGETARIAN TIKKA MASALA WITH CAULI RICE
This delicious twist on tikka masala calls for turning the cruciferous vegetable into "rice" with a grater or food processor (a great way to squeeze an extra serving of veggies into your daily rotation). 
Recipe and image courtesy of The Toasted Pine Nut.
Preparation: 5 minutes    Cooking: 20 minutes   Serves: 4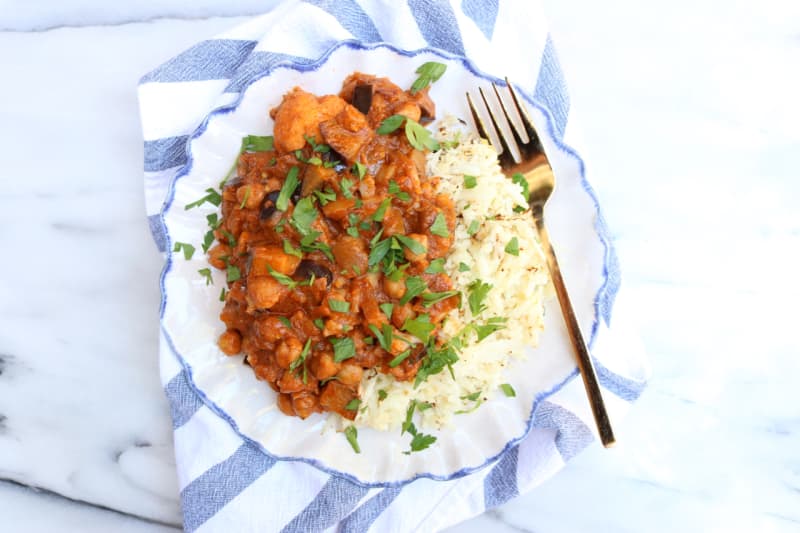 INGREDIENTS
1 medium cauliflower, cut in florets
2 tablespoons extra-virgin olive oil
1/2 sweet onion, chopped
1/2 eggplant, cut in 1/2" cubes
1/2 cup vegetable broth
1 cup chickpeas, drained and rinsed
1 12.5 ounce bottle Tikka Masala sauce
1 tablespoon extra virgin olive oil
2 cloves garlic, minced
Handful herbs, chopped
INSTRUCTIONS
First, cut your cauliflower into florets.
Sauté half the cauliflower florets in olive oil for about 3 minutes over medium heat.
Add the onion and eggplant and continue to sauté until browned, about 5-10 more minutes.
Once everything is nice and browned, turn the heat down to medium-low, add the broth, and cover for about 3 minutes until the broth is completely absorbed.
Add the sauce and keep the heat low until the cauli rice is done.
Place the other half of the cauli florets into your food processor with the shredding attachment.
Turn the food processor on and drop the florets into the top shoot to rice the cauli.
In a small skillet, heat the olive oil and minced garlic over medium-high heat until fragrant.
Add the cauli rice and sauté, stirring frequently until it starts to brown in the slightest, about 5 minutes.
Serve the veggies on top of the cauli rice and sprinkle with your favorite herbs.
---
2. Hide beets in your burger.
BEET CHICKPEA BURGERS
This vegetarian-friendly burger patty gets its bold, all-natural color from a combination of beets and protein-rich chickpea flour.
Recipe and image courtesy of The Well Necessities.
Preparation: 45 minutes-1 hour   Cooking: 15-20 minutes (or until firm)   Serves: 3-4
INGREDIENTS
1 frozen bag of beets or 4 loose beets
2/3 cup garbanzo bean flour (also known as chickpea flour)
2 tablespoons beet horseradish, but regular horseradish will do as well
3 tablespoons olive oil
1 teaspoon salt
INSTRUCTIONS
If you are using frozen beets, let them thaw for 10 minutes out of the freezer. Once they begin to defrost, place in a bowl, and toss in 1 tablespoon olive oil, evenly coating each piece. If you are using loose beets, coat the surface in olive oil and wrap in tin foil. Place beets on a tray in oven for 30 minutes at 375 degrees F.
Once cooked, place beets in a blender. If you used whole beets, gently rub the surface off with the tinfoil to remove the outer layer.
In the blender, combine the garbanzo bean flour, remaining oil, horseradish, and salt.
Once it is all mixed together, pour contents into bowl.  Create the burger by shaping it about the size of your palm, about 1-inch thick. 
---
3. Try chia.
RASPBERRY CHIA PUDDING
Chia seeds can be used as a topping on salads, smoothies, and yogurts, but the buzzy superfood also makes a hearty breakfast or snack in the form of this fruit-infused pudding.
Recipe and image courtesy of Choosing Chia.
Serves: 1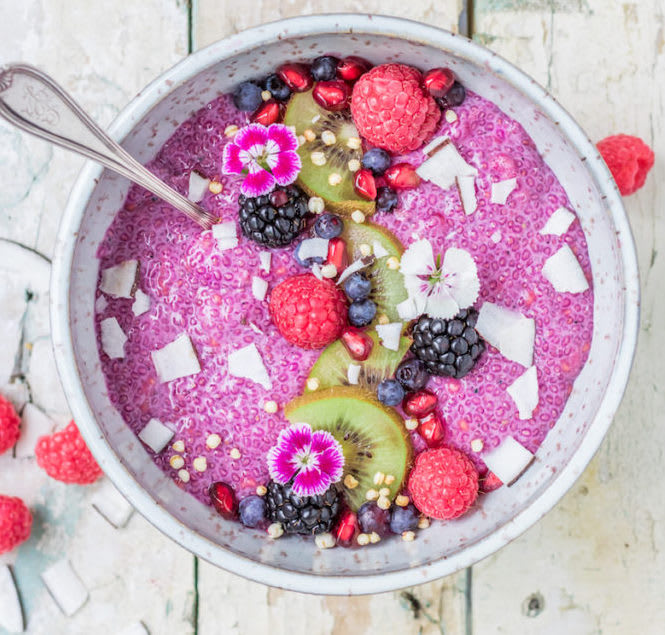 INGREDIENTS
1/4 cup chia seeds
1/2 cup fresh or frozen raspberries
1/4 cup almond milk
1 tablespoon maple syrup
1 teaspoon dragonfruit powder (optional, but gives a pink color)
INSTRUCTIONS
If using frozen raspberries, let them defrost.
Using a fork, mash raspberries in a bowl until they are almost a puree-like texture.
Add the chia seeds, almond milk, maple syrup, and dragonfruit powder, and whisk together until combined.
Allow to sit for 5 minutes, and then whisk again removing any clumps that may have formed.
Place in the fridge for 2-4 hours.
Serve with your favorite fruit.
---
4. Get a spiralizer and use it—often.
AVOCADO BASIL PESTO ZUCCHINI NOODLES
A spiralizer quickly turns fresh veggies (like zucchini, sweet potato, carrot, cucumber, and the list goes on) into noodle-like strands—meaning you can have all the "pasta" your stomach desires. For starters, we suggest this avocado basil pesto dish.
Recipe and image courtesy of Inspiralized.
Preparation: 25 minutes   Serves: 2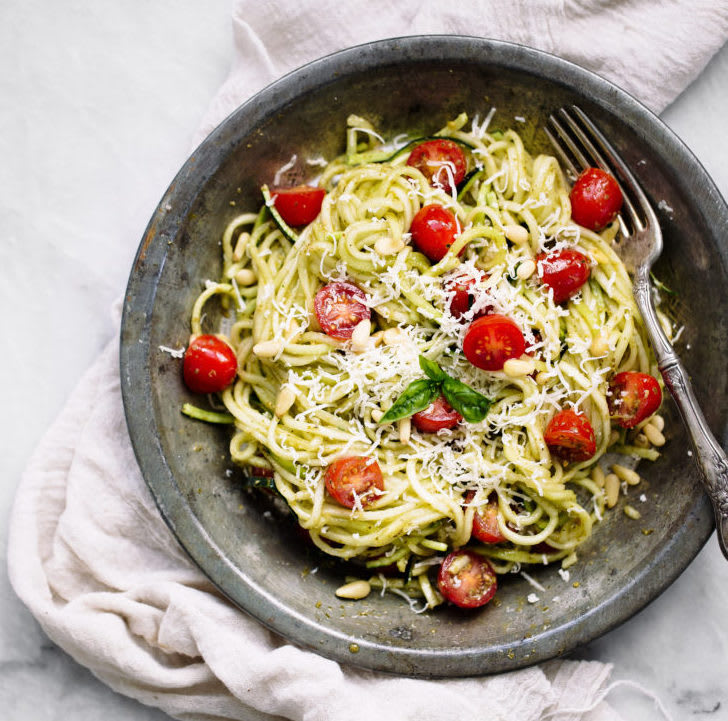 INGREDIENTS
2 medium zucchini, ends trimmed
1/2 cup packed fresh basil leaves
1/2 large ripe avocado
2 cloves garlic
2 tablespoons pine nuts
1 tablespoon fresh lemon juice (from 1 small lemon)
3 tablespoons water, plus more if necessary
1/4 cup grated parmesan cheese
Kosher salt and freshly ground black pepper, to taste
1/2 cup sliced grape tomatoes
INSTRUCTIONS
Use a julienne peeler, mandolin, or spiralizer to spiralize the zucchini into noodles. Add noodles to a large bowl.
Add basil, avocado, garlic, pine nuts, and lemon juice to a food processor and pulse for 20 seconds or until pesto is chopped. Add in water and process again until completely smooth. You may need to add more water to get it to your desired consistency. Transfer to a bowl with the zucchini noodles and toss the noodles until they are well coated. Top with tomatoes. Serve room temperature or chilled.
Store in an airtight container or sealed mason jar and refrigerate. Pesto is best if used within a few days, otherwise you can freeze it for several months.
---
5. Add protein to your desserts.
CHICKPEA GINGERBREAD BUCKEYES
Eating better doesn't mean you have to give up on sweets entirely. Yes, these no-bake treats are made with semi-sweet chocolate and creamy peanut butter, but the recipe's main ingredient is protein-rich chickpeas.
Recipe and image courtesy of Dishing Out Health.
Preparation: 15 minutes             Cooking: 40 minutes             Serves: 12-14
INGREDIENTS
1 cup chickpeas, drained and thoroughly rinsed
1/2 cup natural creamy peanut butter
2 tablespoons molasses
2 tablespoons pure maple syrup
1/4 teaspoon cinnamon
1/4 teaspoon ground ginger
1/4 teaspoon sea salt
1 cup semi-sweet chocolate chips
INSTRUCTIONS
Place chickpeas in a food processor. Blend for 10-15 seconds, until finely ground. Add peanut butter, molasses, maple syrup, cinnamon, ginger, and salt. Blend for about 1 minute, until ingredients form a smooth ball of dough.
Roll dough in 12-14 balls. Place on a parchment paper lined baking sheet. Chill for 30 minutes.
Place chocolate chips in a microwave-safe bowl. Heat in 20-second increments for about 60-80 seconds, until melted, stirring well.
Dip buckeyes into chocolate and place back on parchment paper. Let set for approximately 10 minutes, until chocolate hardens. Store refrigerated in an airtight container.
---
6. Start souping.
TRUFFLE PEA SOUP
Think pea soup is boring? This easy-to-make version—garnished with avocado, radish, and a touch of truffle oil—is rich and flavorful enough to change your mind.  
Recipe and image courtesy of Lee From America.
Serves: 2
INGREDIENTS
1 bag sweet peas (10 ounces)
3 cups vegetable stock
1 yellow onion, chopped
1 clove garlic
2 tablespoons truffle oil
Salt + pepper to taste
Lemon, avocado, radish, and cashew cream for garnish
INSTRUCTIONS
Place your frozen peas in a bowl and cover with enough hot water to let them thaw. If you are using canned peas, just rinse and drain them a few times over the sink. 
Quickly saute the onion in a bit of olive oil over medium heat for 4 minutes, stirring constantly. Add a minced garlic clove, salt, and pepper to the pan and continue to saute until golden brown. Let cool and set aside.
Add the peas, vegetable stock, and onion to a blender (at this stage, leave a few peas aside for garnish or if you like more "bite" to your soup and want something to chew on).
Blend everything together until desired consistency is reached. If too thick, add more vegetable stock. If too thin, add more peas.
Add the truffle oil, salt, and pepper. Blend another few seconds.
Pour into bowls and top with avocados, some radish, leftover peas, or cashew cream (1/4 cup cashews, 3 tablespoons lemon juice, salt, pepper, and a garlic clove whizzed together in the blender until smooth).
Ready to try these recipes? Click below to shop a curated collection of kitchen tools, cookbooks, and other must-haves to help you eat healthier all year long.