Time to ramp up the outdoor barbeques, pool parties, and alfresco dinners, because the next few weeks are your last opportunities for warm-weather entertaining. And whether you're hosting your own get-together or attending one, a delicious pitcher of sangria is a fool-proof way of pleasing everyone at the party. Thanks to some of our favorite bloggers, read on for four standout recipes that will have every guest reaching for a second glass.
---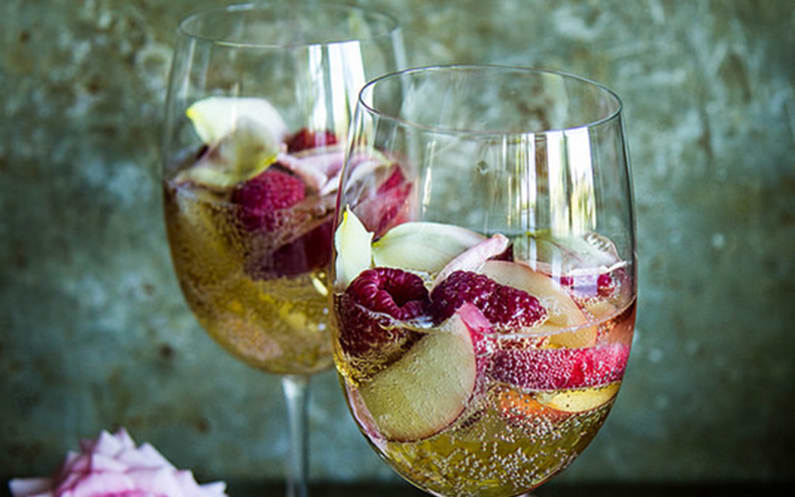 Thanks to the clever addition of rose petals and raspberries, this elegant, easy-to-assemble sangria is perfect to serve at your next party.
1 bottle really chilled Prosecco
4 ounces brandy
2 tablespoons rose water
1 cup raspberries
1 white peach (or nectarine) finely sliced
Rose petals
Combine all of the ingredients in a large pitcher and chill.
Serve cold.
---
You can't go wrong with a classic red wine sangria. Tip: Garnish the glasses with fresh strawberries and add festive straws to complement the gorgeous bordeaux hue.
1/4 cup sugar
1/4 cup water
1 bottle red dry table wine
1/2 cup brandy
1 cup pomegranate juice
1 whole apple, sliced
1 whole orange, sliced
1 cup strawberries, sliced
Add sugar and water to a small saucepan. Over medium high heat bring the mixture to a boil. Cook until sugar is fully dissolved. Allow to cool.
Add red wine, brandy, pomegranate juice, apples, oranges, and strawberries to a large pitcher.
Add in cooled simple syrup and stir. Refrigerate for at least two hours or for best results overnight.
---
The combination of grapefruit, honey, and berries makes for the perfect blend of sweet and tart.
750 ml bottle French Rosé Wine 
1 cup pink grapefruit juice
3/4 cup bourbon
1/2 cup honey
1/4 cup chambord (raspberry liquer)
2 cups watermelon balls 
1 1/2 cups fresh sliced strawberries
6 ounces fresh raspberries
Use a melon baller to scoop two cups of watermelon balls out of a large slice of fresh watermelon. Slice the strawberries.
Pour the Rosé wine, grapefruit juice, bourbon, honey, and chambord in a large pitcher. Stir until the honey dissolves into the mixture. Then add the watermelon balls and strawberries. Cover and refigerate for at least two hours.
After at least two hours, stir and taste for sweetness. Add more honey if needed. When ready to serve, stir in the fresh raspberries and pour into glasses.
---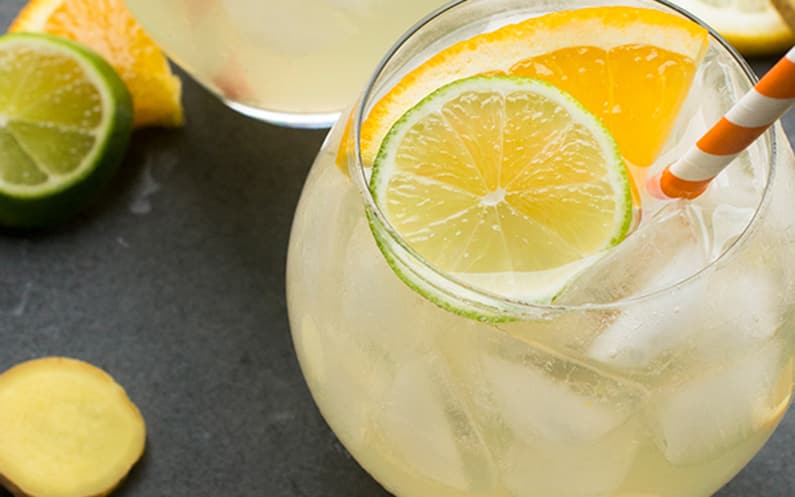 Searching for a drink to pair with your summer dishes? Look no further than this seasonally appropriate recipe, made with a variety of citrus fruits and dry white wine. 
1 bottle dry white wine
1/2 cup fresh orange juice
1/4 cup lime juice
1/4 cup lemon juice
12 ounces ginger beer
Sliced orange, lemon, and lime
Ginger Simple Syrup
1/2 cup water
1/4 cup sugar
3-inch pieces ginger root cut into large chunks
To make Ginger Simple Syrup, place water, sugar, and ginger root in a small sauce pot and bring to a simmer. Stir for 60 seconds or until sugar dissolves. Remove from heat and let ginger steep while syrup cools.
Place white wine in a large pitcher and add in oranges, lime, and lemon juice. Add additional orange, lemon, and lime slices to the pitcher for garnish and added flavor.
Once Ginger Simple Syrup has cooled, strain ginger root from the mixture and add the syrup to the pithcer of wine and citrus juice. Stire well and let mixture chill for four hours or up to overnight.
To serve, pour mixture over ice until glass is 3/4 full. Top each glass with ginger beer before serving.
Garnish with extra citrus slices if you wish.