Skip the basic lunches (sorry, PB&J!) and kick off back-to-school season with our roundup of delicious alternatives—all calling for five ingredients or less. From an unexpected take on tuna salad to an inventive ham-and-cheese sandwich, these easy-to-make recipes will beat your little one's lunchbox blues without monopolizing your mornings. Keep reading for meal inspiration from some of our favorite food bloggers.
---
Recipe and images courtesy of: Inspiralized
Preparation: 20 minutes // Cooking: 20 minutes // Serves: 4
Elevate run-of-the-mill tuna salad with this healthier interpretation, which swaps mayo for Greek yogurt and avocado, and is served with cucumber "noodles" instead of bread. 
Ingredients:
1 ripe avocado, peeled and pitted
12 oz canned white albacore tuna in water
1.5 teaspoon Dijon mustard
5 tablespoons Greek yogurt
2 seedless cucumbers
salt and pepper, to taste (optional)
Directions: 
Place the avocado in a medium bowl and mash it with the back of a fork. 
Add in the tuna, Greek yogurt, Dijon mustard, and season with salt and pepper. 
Add in the cucumber noodles and toss together. 
Save for later or serve immediately.
---
Recipe and images courtesy of: Recipe Diaries
Preparation: 10 minutes // Cooking: 40 minutes // Serves: 4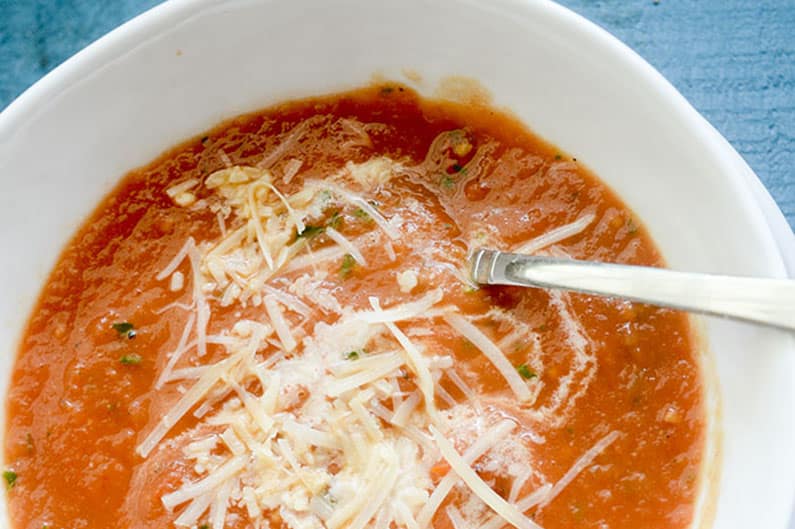 Got a blender? Whip up this seasonally appropriate soup with roasted tomatoes and vegetables. (Bonus: It's tasty served cool or hot!) Serve alongside a grilled cheese sammie for a perfectly filling lunch). 
Ingredients:
8-­10 tomatoes, halved
2 medium onions, quartered
4 cloves garlic
2/­3 Tbsp olive oil
⅓ cup sliced fresh basil
salt and pepper, to taste (optional)
Directions:
Place halved tomatoes, quartered onions, and garlic cloves into a large bowl.
Add oil and season well with salt and pepper. Stir well to coat.
Pour the vegetables onto a baking tray and roast at 400 degrees for 30 minutes.
Remove tray from oven and let cool for 5 minutes.
Place roasted vegetables in blender, along with sliced basil, and blend until smooth.
Add salt and pepper as necessary.
Heat soup on the stove, if necessary.
---
Recipe and images courtesy of: The Comfort of Cooking
Preparation: 10 minutes // Cooking: 50 minutes // Serves: 4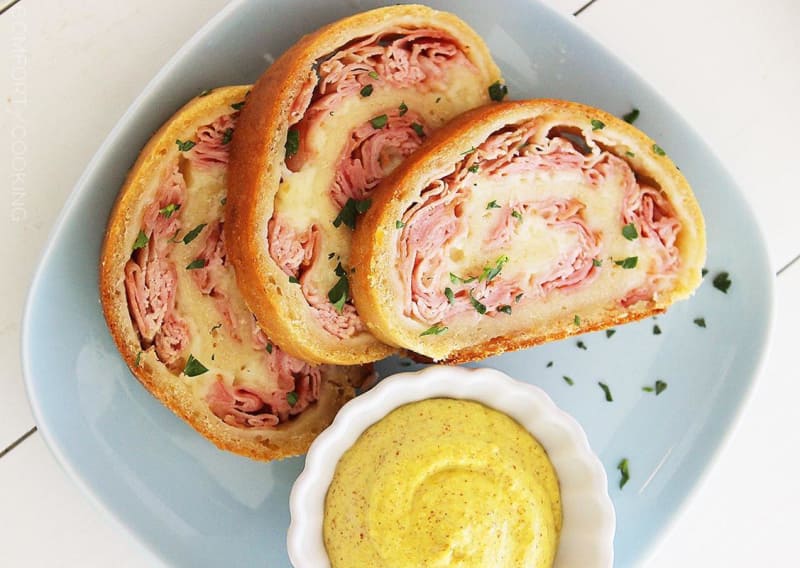 These creative roll-ups take the classic ham-and-cheese sandwich to the next level by replacing white bread with pizza dough. Plus, their fun, easy-to-eat shape will make your tots want to go back for seconds. 
Ingredients:
1 ball pizza dough
8 oz. thinly sliced deli ham
1 cup shredded mozzarella cheese 
Fresh parsley, for sprinkling (optional)
Mustard or horseradish sauce, for serving (optional)
Directions:
Preheat oven to 400 degrees F. Roll out pizza dough on a lightly floured surface. Press to form a 12 x 8-inch rectangle.
Arrange ham slices evenly over dough to within 1/2 inch of edges. Sprinkle evenly with cheese. Starting at one of the short ends, roll up dough to form log. Pinch seam together to seal. Place, seam side down, on a greased baking sheet.
Bake for 50 minutes, or until deep golden brown. Let stand 10 minutes before cutting into 8 slices with a serrated knife.
Serve with mustard or horseradish sauce, if desired.
---
Recipe and images courtesy of: Contendedness Cooking
Preparation: 5 minutes // Cooking: 5 minutes //Serves: 6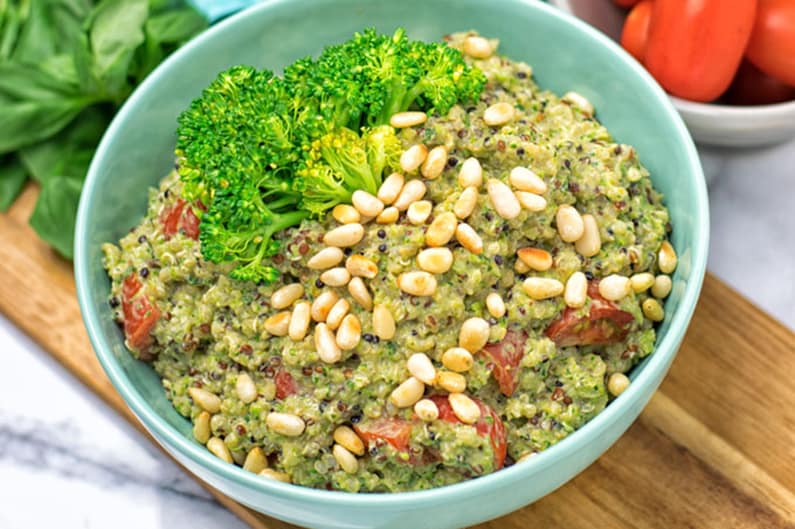 Getting your little ones to eat (and enjoy!) veggies can be a challenge. That's why this hearty salad—a combination of broccoli, quinoa, and a dairy-free, avocado-pesto sauce that children will love—is such a game-changer.
Ingredients:
3/4 cup quinoa uncooked
1 batch Avocado Pesto Pasta Sauce with 2 extra cloves of garlic
1 broccoli, cut into small florets, cooked or steamed
2 cups basil
1 cup cherry tomatoes, halved and sliced
Salt, pepper to taste (optional)
1/4 cup lightly roasted pine nuts (optional)
Directions:
Cook the quinoa according to the manufacturer's directions. While it's cooking, make the dairy free pesto. Combine all the ingredients in your blender or food processor. Hold 1/2 of the broccoli back for the salad. Process the rest until smooth.
When the quinoa is finished cooking, assemble the salad. After that just mix all items together, garnish optional with 1/4 cup roasted pine nuts, enjoy straight or chill for later.
---
Recipe and images courtesy of: Rachel Cooks
Preparation: 25 minutes //Cooking: 20 minutes // Serves: 4-5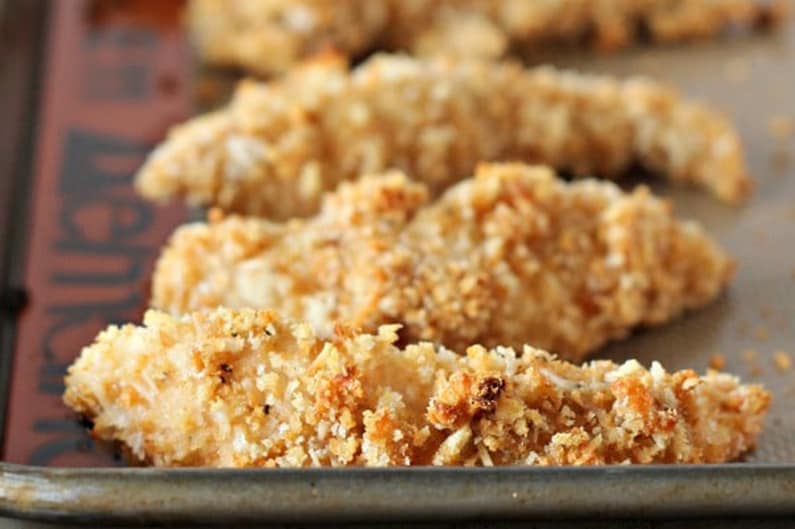 Take a page from the kid's menu by surprising your little one with this yummy take on chicken tenders. Plus, the parmesan-infused panko crust offers a nice departure from what you'd find on a typical drive-through dinner menu.
Ingredients:
2 pounds boneless skinless chicken breasts 
1 cup all-purpose flour
2 cups Caesar seasoned croutons, crushed in a blender or food processor
1/2 cup Panko breadcrumbs
3/4 cup shredded parmesan cheese
Recipe:
Preheat oven to 400 degrees F. Cut chicken breast into tender-sized strips, cutting down the long side of the breast (try to make them equal for even cooking). It should come out to about 4 tenders per chicken breast.
Place flour in one shallow bowl and mix together crushed croutons, panko breadcrumbs, and cheese in a third shallow bowl.
Take one tender, dip it in flour, and shake the excess off. Then dip it the dressing and use your fingers to brush off any excess so there is only a thin layer (otherwise they'll get soggy even after baking). Then, dip in the crouton/Panko/cheese mixture so that the tender is evenly coated. Place on baking sheet lined with a Silpat baking sheet or parchment paper. Continue this breading process until all tenders are breaded and on the baking tray.
Bake for 20 minutes or until golden brown and cooked through.