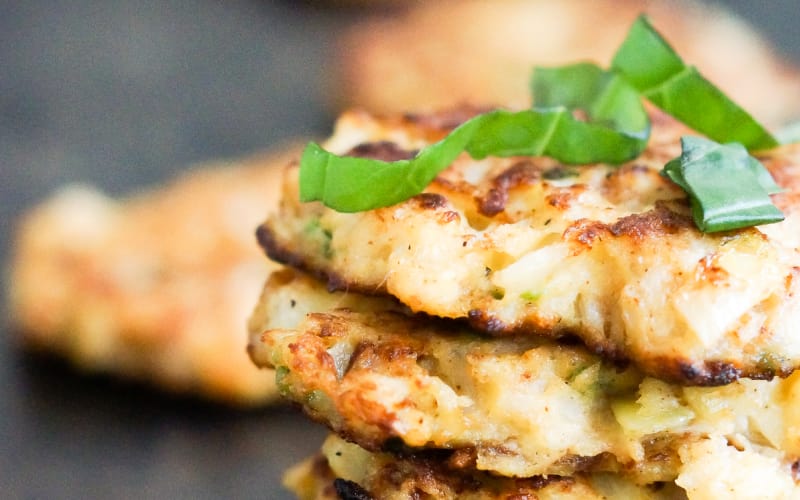 Move over, broccoli. Thanks to its versatility as a carb substitute, the once-underrated cauliflower is having a moment among food bloggers. Whichever way it's cooked—steamed, grated, roasted, or mashed—the cruciferous veggie offers an excellent base for other flavors and seasonings. Read on for five blogger recipes that will help you eat better (and just might turn you into a cauliflower convert!).
1. Replace your pizza crust with it.
PEPPERONI CAULIFLOWER PIZZA CRUST
Craving a slice of pepperoni? This recipe calls for a crisp cauliflower crust, but be prepared: There's a little bit of effort required to make the "dough."
Preparation: 20 minutes    Cooking: 45 minutes   Serves: 4-8
INGREDIENTS
1 head cauliflower, cut off the florets
1 egg
1 teaspoon oregano
1/2 tsp garlic powder
Salt and ground fresh black pepper
Topping:
1/2 cup marinara sauce 
1/2 cup grated mozzarella cheese
1/4 cup grated parmesan cheese
1/4 mushroom, sliced
3 oz pepperoni slices
INSTRUCTIONS
Preheat the oven to 400 degrees.
Cover a baking sheet with parchment, and lightly spray with olive oil spray. Set aside.
Pulse the cauliflower florets in a food processor for about 25-30 seconds until it's a rice-like consistency.
Place the cauliflower in a microwave-safe bowl and microwave for 4 minutes.
Once cauliflower is cool enough to handle, transfer to a kitchen towel and wring out. You need to squeeze out water as much as you can.
Place the cauliflower into a bowl and add the egg and seasonings. Using your hands, combine everything and form a ball.
Place the ball on a baking sheet and press the ball out to form a pizza shape. The crust should be no more than half an inch thick. (You can use a kitchen towel to help you to form a pizza shape.)
Bake for 20-25 minutes. Remove from oven.
Top with pizza sauce, cheese, pepperoni, and mushroom.
Bake for 15 minutes more or until cheese has melted.
---
2. Rice it up.
CAULIFLOWER FRIED RICE WITH KALE & KIMCHI
This delicious, Korean-inspired stir-fry incorporates kimchi, fish sauce, and cauliflower that's been processed to a rice-like consistency.
Recipe and image courtesy of A Modest Feast.
Preparation: 15 minutes    Cooking: 20 minutes   Serves: 1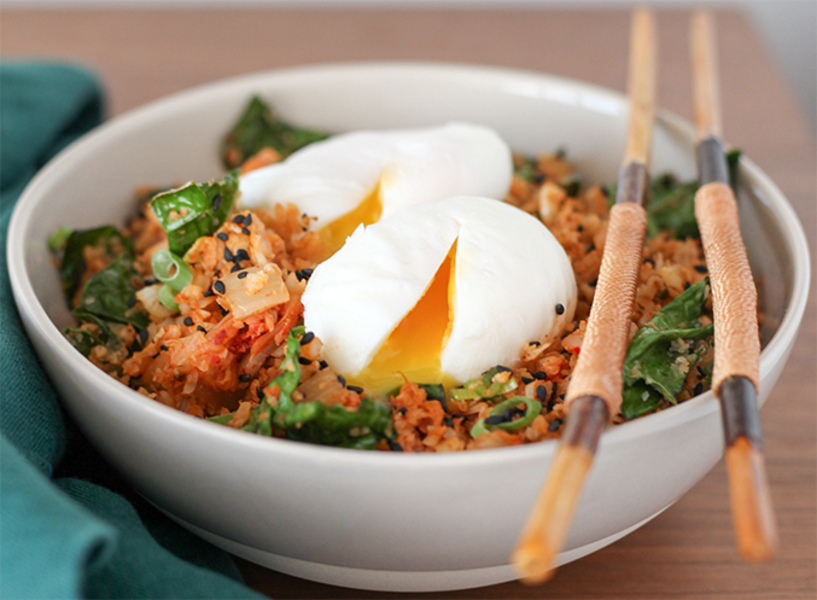 INGREDIENTS
1/2 head cauliflower
1/2 tablespoon neutral oil, like grapeseed or refined coconut
1 cup kale torn into bite-size pieces
2 scallions, white and green parts, thinly sliced
2-3 teaspoons fish sauce
1/2 cup kimchi, roughly chopped
1 teaspoon toasted sesame seeds
2 poached eggs
INSTRUCTIONS
Remove and discard the cauliflower leaves. Using the largest holes on a box grater, grate the cauliflower, using the core as a handle. Finely chop any large pieces that remain. (Alternatively, cut the cauliflower into florets and pulse in a food processor until broken down into rice-sized pieces.)
Heat the oil in a large (preferably not non-stick) skillet over medium high heat until shimmering. 
Add the cauliflower and cook, stirring frequently, and scraping up browned bits as you go, until golden-brown, for 5-7 minutes.
Add the kale and scallions, and cook, stirring frequently, until the kale turns bright green and has begun to wilt, about 1 minute. 
Turn off the heat and add the fish sauce, kimchi, and sesame seeds, stirring to distribute everything evenly. 
Season to taste with additional fish sauce (if needed).
Top with poached eggs and eat immediately.
---
3. Enjoy as tater tots.
CAULIFLOWER TATER TOTS
This recipe makes over kid-friendly tater tots by swapping potato for cauliflower and requiring baking instead of deep-frying them.
Preparation: 25 minutes    Cooking: 30 minutes   Makes: 32-34 tots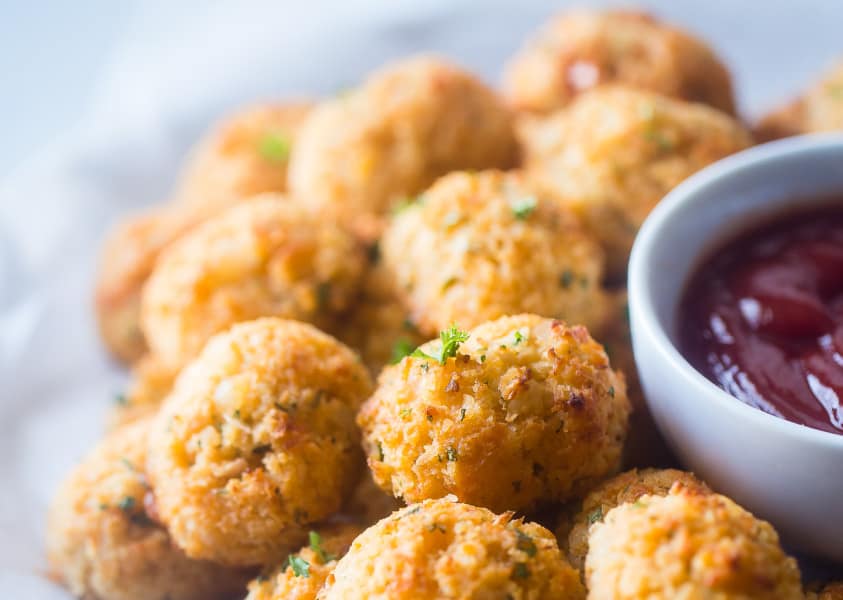 INGREDIENTS
3 cups cauliflower, cut into bite-sized florets (290g)
6 tbsp onion, diced
3 tbsp light cottage cheese
1 1/2 tbsp garlic, minced
1 egg white
3/4 cup reduced-fat cheddar cheese, shredded
1/2 cup + 2 tbsp gluten-free panko
3 tbsp parsley, minced
Salt and pepper to taste
INSTRUCTIONS
Preheat oven to 400 degrees and very generously spray a cookie sheet with cooking spray.
Place the cauliflower florets into a food processor and blend until broken down and "rice-like." Transfer to a microwave-safe bowl and microwave for 3 minutes. Stir and then microwave an additional 2 minutes.
Add in the onion, cottage cheese, and garlic, and stir until well mixed. Microwave again for 20 seconds.
Finally, add in the egg white, cheddar, panko, parsley, and a pinch of salt and pepper, to taste. Stir until well mixed and the egg white is evenly distributed.
Using a 1 tbsp measure, form the cauliflower into tots. (Tip: The easiest way is to really pack the cauliflower into a 1 tbsp measuring spoon and then gently top it onto your hand until it comes out of the spoon in a perfect tot shape.) Place it on the pan. You should end up with 32-34 tots.
Generously spray the tops with cooking spray and bake for 20 minutes. Then, spray the tops generously again, and bake an additional 7-10 minutes, or until the tots are golden brown and crunchy.
---
4. Add bold flavors.
CHIPOTLE CAULIFLOWER JALAPENO FRITTERS
These gluten- and dairy-free fritters are the perfect finger food for parties (plus, you can challenge your guests to figure out the secret ingredient!).
Recipe and image courtesy of HBFit.
Preparation: 30 minutes    Cooking: 20 minutes   Makes: 22 fritters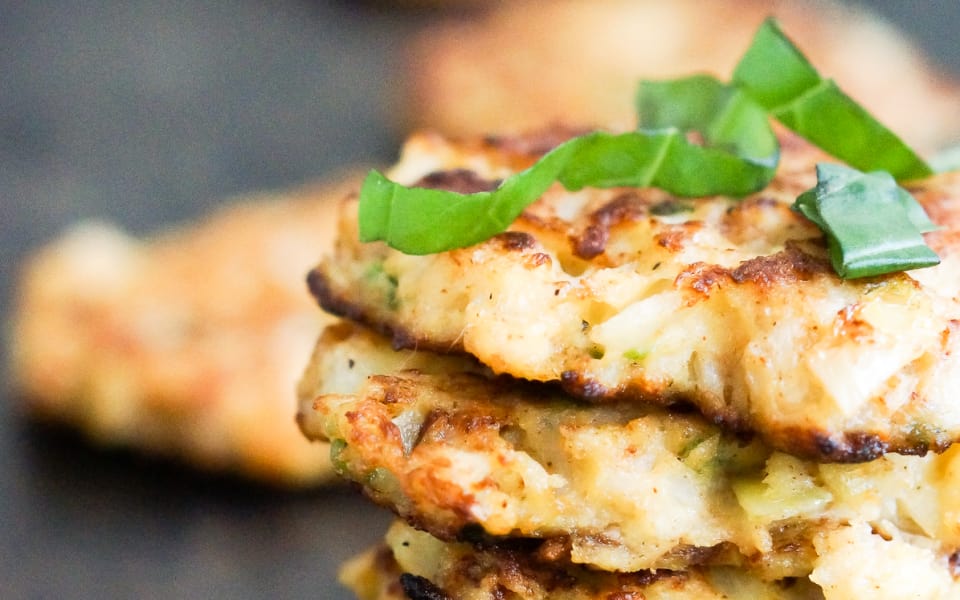 INGREDIENTS
1 cauliflower, washed and cut roughly into large florets
1 egg, beaten (you can also sub 1 chia egg or 1 flax egg, if vegan)
1/2 cup flour of choice 
1/2 tsp chipotle powder
1 jalapeno, seeded and minced
4 cloves of garlic, minced
1 onion, minced
1/4 tsp salt
1/8 tsp black pepper
Avocado oil (or other high heat oil of choice), for frying
INSTRUCTIONS
Steam the cauliflower for about 10 minutes, or until very fork tender. 
Meanwhile, mix together all remaining ingredients, save for avocado oil. 
Let the cauliflower cool slightly (so you don't end up with scrambled eggs) before using a wooden spoon to mix it into the egg mixture, mashing it as you go. You should end up with a lumpy looking batter. Bits of cauliflower are great, but you want the egg and flour to be evenly distributed. 
Heat a large frying pan over medium heat, then coat the bottom lightly with avocado oil (or other high heat oil of choice).
Using two teaspoons, spoon batter into pan, pressing each fritter flat with the back of your spoon. 
Cook for 2-3 minutes on each side, or until you see the edges begin to turn golden. 
Transfer to paper towel. To keep warm, store in oven at 200 degrees until ready to serve.
These can be made ahead and frozen. Simply transfer directly from the freezer to a 350 degree oven and reheat until crispy again. 
---
5. Turn it into a cold-weather classic.
MASHED CAULIFLOWER GREEN BEAN CASSEROLE
If the weather's putting you in the mood for comfort food, try this vegan casserole recipe made with a creamy cauliflower base.
Preparation: 10 minutes    Cooking: 25 minutes   Serves: 8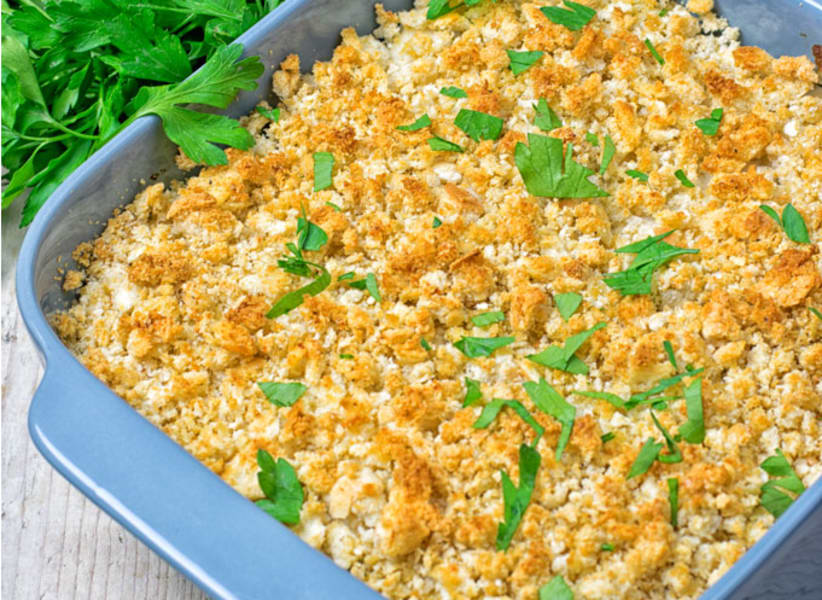 INGREDIENTS
3/4 cup coconut milk
1 tbsp oil
1/2 cup nutritional yeast
1 cauliflower
Salt and pepper
14 oz green beans, trimmed
1 onion, diced
Topping: 2 handfuls of gluten-free breadcrumbs, 1 tbsp olive oil, 1 crushed clove of garlic, and 1/4 cup nutritional yeast 
INSTRUCTIONS
Cook cauliflower florets in a steamer in the microwave for around 8 minutes, or just cook them on the stove, which might take a bit longer. 
Heat a skillet with a bit of oil.
Add onions and green beans and cook. When the cauliflower is done, add to blender or food processor and pour in coconut milk and nutritional yeast. Season with salt and pepper. 
Blend until really creamy and smooth (this can be also done with a potato smasher).
Prepare the topping by combining all ingredients in a bowl.
Assemble: Start with the green bean mix, followed by the mashed cauliflower, and end with the topping. 
Bake for around 15 minutes at 405 degrees.
Ready to cook with cauliflower? Click below to shop a curated collection of all the kitchen tools you'll need.
Try these cauliflower dishes at your local Westfield center!