Almost Famous: Easy Big-Screen Halloween Costumes
Almost Famous: Easy Big-Screen Halloween Costumes

Dianna Baros
Halloween's just around the corner, but there's still plenty of time to put together an amazing costume that will have all your friends talking—and possibly even asking, "Where did you get that?" Because for us fashion types, this ghoulish holiday is a chance to take some serious sartorial risks, all in the name of dressing up, of course. And who better to inspire us than our favorite on-screen characters, whether it's a current TV starlet or a ghost from the past. With the right inspiration and a little ingenuity, you can put together an inexpensive yet impactful costume without going the cheesy party-store costume route. Here are some ideas you can shop right at your local Westfield Center:
THE INSPIRATION: OLIVIA POPE FROM SCANDAL
Confession: Since I was a little girl, I've always gravitated towards pretty Halloween costumes that let me dress up and wear makeup. No fake blood or scary masks for this princess. If you can relate, than Olivia Pope is your muse: She's everyone's favorite fashion icon on TV for her sophisticated and polished wardrobe. To channel her look for Halloween, pick a stylish coat or trench, elegant hat and her signature gloves. The best part is you can wear all these pieces long after the last piece of Halloween candy has been eaten.
Textured Woven Coat, H&M  //  Wide-Brimmed Hat, Zara  //  Leather Gloves, H&M
THE INSPIRATION: COLUMBIA FROM THE ROCKY HORROR PICTURE SHOW
If you have a penchant for sequins and the macabre, consider dressing up as Columbia from this cult classic. Round up anything shiny in your closet—a sequin bustier, short-shorts, and/or blazer will do the trick. Add a campy red wig, Columbia's signature red bow-tie and fishnets to complete the look. Bonus points if you wear tap shoes.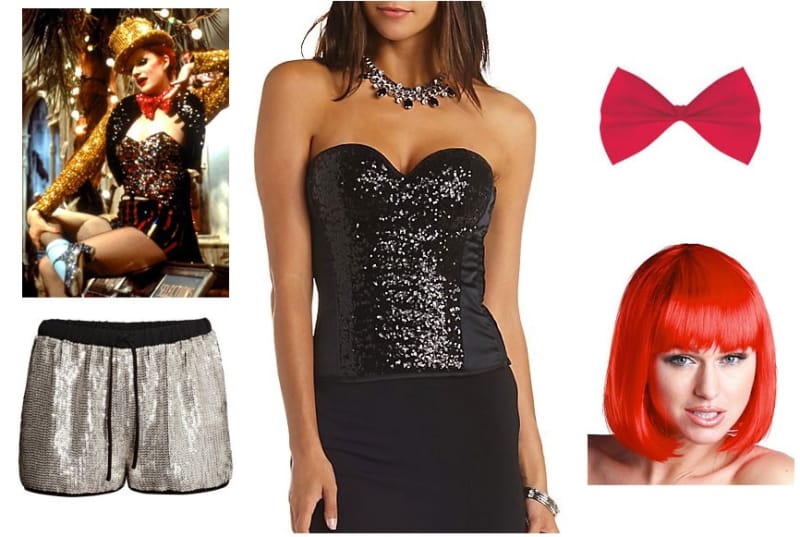 Strapless Sequin & Satin Bustier, Charlotte Russe  //  Sequined Short Shorts, H&M
THE INSPIRATION: ROSALYN ROSENFELD FROM AMERICAN HUSTLE
Ok, here's another confession: In my college days, I was totally guilty of picking costumes that were a little bit vampy. Okay, maybe a lot bit vampy. And Rosalyn Rosenfeld would have been my top pick. Who can resist her over-the-top, highly questionable fashion choices? Pull our your animal prints, anything 70s inspired, and don't forget to tease your hair high. Pick up costume jewelry to finish the look at a thrift store or someplace fun like Forever 21.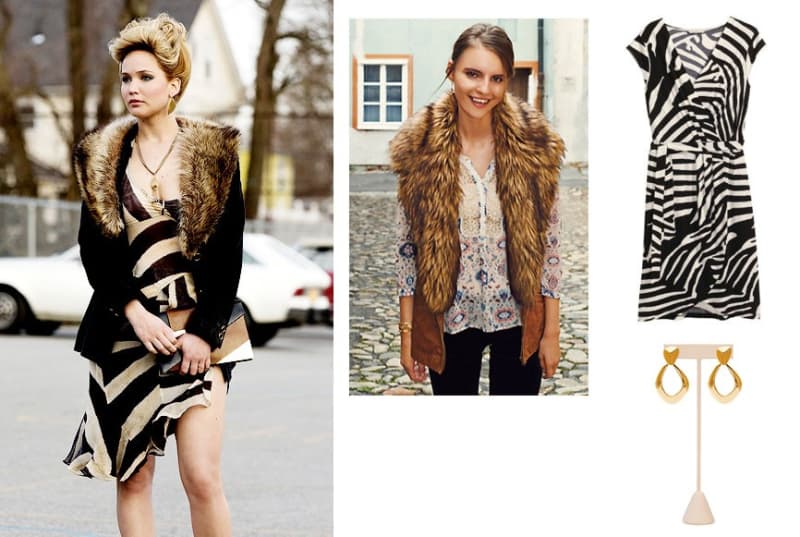 Mod Cutout Drop Earrings, Forever 21  //  Faux-Fur Shawl Vest, Anthropologie  //  Wrapover Dress, H&M
THE INSPIRATION: ROSIE THE RIVETER
While Rosie the Riveter isn't a celebrity per se, she's such an icon of Americana, and her costume is über easy to recreate. All you need to do is head to American Apparel, which is a one-stop shop for all your Halloween costume needs. Want to be a leotard-wearing pop star? Check. A naughty school girl? Check. A superhero in tights? Check and check! What's more is that anything you buy can be reworked in your real-life closet, too, so you'll get more bang for your buck. For more ideas, head to AmericanApparel.net.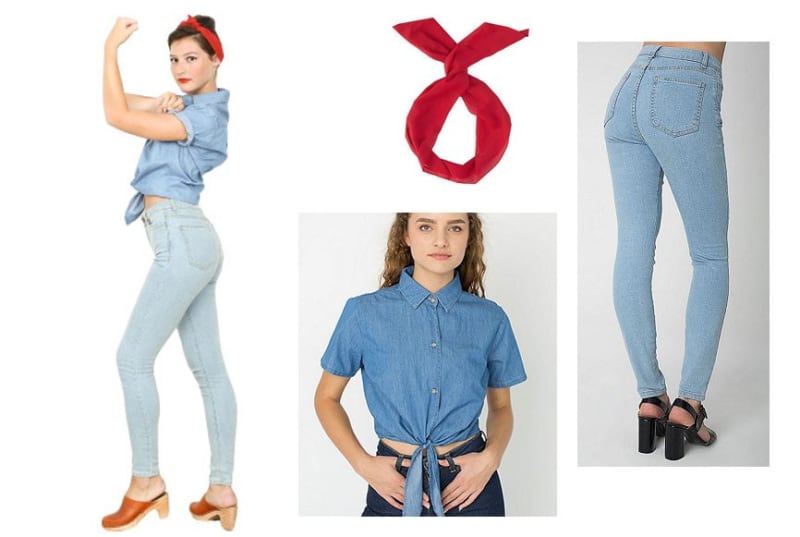 Pencil Jean, American Apparel  //  Denim Mid-Length Tie-Up Blouse, American Apparel  //  Twist Scarf, American Apparel