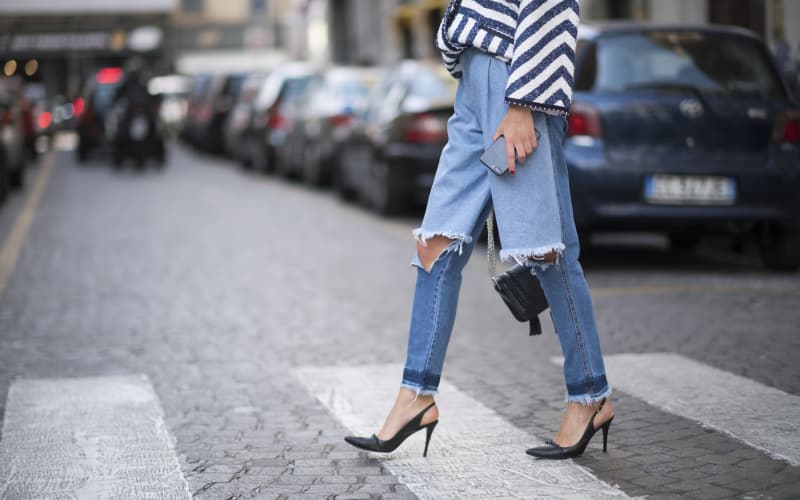 So long, skinny jeans. Hello, slouchy silhouettes! Fall's latest denim looks have officially arrived. Since finding the perfect pair of jeans is a true sartorial challenge, we've identified the most flattering styles among this season's trends. Whether you have a petite figure or an hourglass shape, check out a few of our favorite cuts below that will suit your style and highlight your best assets.
Petite
If you're petite, try a high-waisted, cropped style. Since finding jeans that are the right length is challenging for many petites, an abbreviated fit is ideal—and saves you a trip to the tailor! 
Hourglass
If you have an hourglass figure, go for a button-fly pair. This retro-inspired style—a stylish nod to the '70s—helps flatten your tummy and creates the illusion of a longer torso.
Pear-Shaped
If you're pear-shaped, look for boot-cut jeans. Thanks to a straight leg throughout and slight flare at the bottom, this back-in-style design elongates your legs and balances you out on top. Plus, these jeans hug your curves without drawing too much attention to your hips.
Athletic
If you have an athletic figure, shop for slouchy styles. Denim is taking a page from the athleisure trend, so this fall's relaxed jeans are perfect for you. These forgiving cuts are perfect for disguising any areas you want to downplay (we get that you don't always want to accentuate muscular thighs) and give you plenty of room to move.
Tall
If you're tall, experiment with dramatically flared denim. Instead of struggling with too-short jeans, go for this extended style—which has an hourglass shape and helps create a slimming effect.