Fashion Week Uniform: Day to Night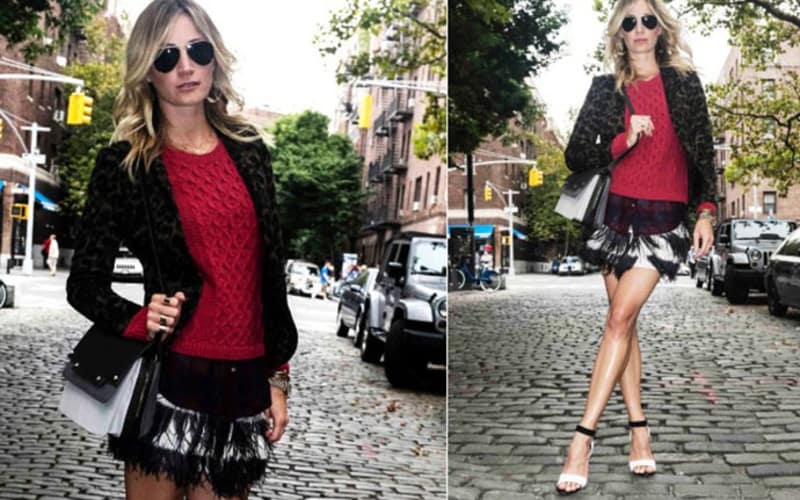 From hi-low to day-meets-nightlife, tastemaker and star stylist Kate Powell tells all and shares her favorite fall pieces (think contrast layering and the convertible clutch) that will keep her looking on-trend during New York Fashion Week.
Day
One of the easiest trends to utilize from day to night during a busy time like Fashion Week is the hi-low, opposites attract trend. The idea is to use a piece that would generally be considered an evening piece, like this feathered Club Monaco skirt, with other pieces that would be considered more daytime, like this H&M shirt, sweater, and jacket, to create an interesting juxtaposition. Not only is this super trendy, but when you are out all day and expected to schmooze all evening, you never feel under-dressed for either occasion
Sunglasses: Ray Ban / Blazer: H&M / Sweater: H&M / Shirt: H&M / Bridget Feather Skirt: Club Monaco / Handbag: H&M / Shoes: Joe Fresh / Rings: Similar at H&M)
Night
Evening wear during Fashion Week can be as easy as showing a bit more skin. In fact, I find that getting too "dressed up" can feel forced compared to the myriad of t-shirted models that dominate the dance floor. My evening look was as easy as ditching the sweater and blazer, adding a cool vintage belt in Punk-inspired studs and a chunky necklace. This jack-of-all-trades bag has a detachable strap, making it a convertible clutch in five seconds flat. Plus, a little lip never hurt anyone, and as we approach Fall, deep colors serve well against pale post-summer skin.
Lipstick: Scarlett Empress - Nars / Belt: Vintage / Necklace: Madewell (old)