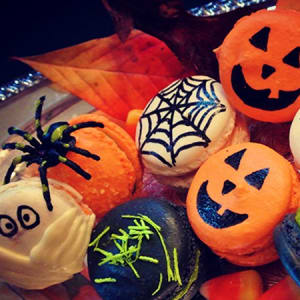 Halloween candy is so yesterday. Macarons are the new, trendy treat that will leave your trick-or-treaters with their jaw on the doorstep. (Or, you can save them all for yourself. We won't tell).
Though macarons can be kinda tricky, if you have an expert carefully guiding you through each step, you can easily re-create these delicious confections in your own kitchen!
Join Bloomingdale's for a delightful experience as we demonstrate the art of the French macaron.
With the participation of volunteers, we'll walk you through each step of this tricky delicacy: we'll bake the cookies, play with decorations and get creative with buttercream fillings. Once our macaron shells have cooled, you'll get to decorate and fill your own, and take home my prized recipe packet! Together, we'll make even Ladurée drool.
We look forward to hosting you in the Bloomingdales test kitchen, located on Level C.
Each guest will take home a hand-decorated box of 10+ macarons, and a recipe packet.
chat with concierge