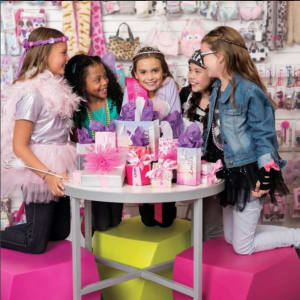 Claire's
Birthday Parties at Claire's at Westfield Palm Desert
–
| | | |
| --- | --- | --- |
| Day | Date | Time |
| Friday | Nov 15 | – |
| Saturday | Nov 16 | – |
| Sunday | Nov 17 | – |
| Monday | Nov 18 | – |
| Tuesday | Nov 19 | – |
| Wednesday | Nov 20 | – |
| Thursday | Nov 21 | – |
| Friday | Nov 22 | – |
| Saturday | Nov 23 | – |
| Sunday | Nov 24 | – |
| Monday | Nov 25 | – |
| Tuesday | Nov 26 | – |
| Wednesday | Nov 27 | – |
| Thursday | Nov 28 | – |
| Friday | Nov 29 | – |
| Saturday | Nov 30 | – |
| Sunday | Dec 1 | – |
| Monday | Dec 2 | – |
| Tuesday | Dec 3 | – |
| Wednesday | Dec 4 | – |
| Thursday | Dec 5 | – |
| Friday | Dec 6 | – |
| Saturday | Dec 7 | – |
| Sunday | Dec 8 | – |
| Monday | Dec 9 | – |
| Tuesday | Dec 10 | – |
| Wednesday | Dec 11 | – |
| Thursday | Dec 12 | – |
| Friday | Dec 13 | – |
| Saturday | Dec 14 | – |
Looking for a fun birthday party setting unlike any other? Contact Claire's for an experience as unique and delightful as your kids! Claire's parties feature:
Festive and unique in store party location.
Engaging activites and games!
Wide selection of party items, Jewellery, Accessories, and Gift Cards.
Discount offers exclusive to your party guests!
Contact 760-346-9254 for details.