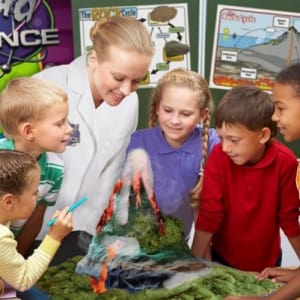 Mad Science Presents Crayola Artists Passport Camp at Westfield Garden State Plaza
–
Mad Science is back for another summer of fun! Join us for a free series every Wednesday from July 11th through August 29th from 10 AM -11AM in the Event Space, Level 2 by Macy's and Ruby Tuesday.
In partnership with Mad Science, the Crayola Artists Passport Camp will take children on an interactive, around-the-world cultural adventure via a themed mad science show. VIP ticket holders will enjoy an after-show experiential session with Crayola products and try art techniques developed by local artists and artisans. Children will make different, theme-related masterpieces each week to bring home and build a globally inspired art gallery!
$10 VIP Package includes:
1 Make & Take Craft
1 Complimentary AMC Theatres children ticket
1 Complimentary children's meal to Chick-Fil-A or California Pizza Kitchen
1 Lego toy
Exclusive retailer offers
100% of proceeds will benefit The Paramus Children's Health Foundation to support children and families involved in the tragic school bus accident
Every Wednesday July 11th through August 29th 10 AM -11AM
July 11th --Africa
Let's take a closer look at textiles and their designs − the symbols, patterns and borders on a cloth can be used to tell stories. We'll use stencils of creatures that are meaningful to the people of Korhogo to paint a wall-hanging using earthen colors.
July 18th--Australia
We are going to the Land Down Under! Enter Australia's Western Desert and see how family stories are carried from one generation to the next. Every family has its story, and we will pass on our personal tales by painting with the dot art technique used by Australia's aboriginal peoples.
July 25th--China
This class cultivates the art of writing with Chinese calligraphy. We will learn the importance of movement and flow with a calligraphy-style brush technique, and turn ideas into images. We'll preserve Chinese characters on a rattle drum, called a Bo Lang Gu, to play at home!
August 1st---Mexico
It's time to turn a fantastical dream into a fantastic work of art! Let's go to Oaxaca, Mexico and learn the story of the alebrije dream and how it unleashed a whole new art form. We'll take our creativity to the wild side by blending fauna and flora into amazing animal sculptures.
August 8th--Pakistan
We're driving into a kaleidoscope of colors when we visit Pakistan! The roads are full of decorated vehicles, each one made to its driver's liking. We will observe the basics of Pakistani truck art, and apply what we learn to create our own eye-catching model buses.
August 15th-- Polynesia
Let's set sail for the South Pacific! The people of the Polynesian islands believed that they needed to stay connected with nature in order to live comfortably. They created "tikis", or carvings, to connect with personifications of the forces of nature. We will think about our connections with nature and design tiki masks for our homes.
August 22nd--Russia
We're sneaking a peek at a collection of treasures made for the royalty! Over 100 years ago, the Russian czar had the jeweler, Fabergé, create ornate egg-shaped gifts with precious metals and gems. We will learn how to design and sculpt an eggs-travagant gift of our own!
August 29th--Europe
World travel is great for mixing up new ideas. Block printing concepts from the east were brought to the west, and the art of wallpaper began in Europe. Let's admire European wallpaper styles and then design and print our own block patterns on gift bags.
chat with concierge